After a month with Saucony Endorphin Shift 3, I fell in love with the shoe. It is the best Shift version so far and one of the best daily trainers available right now. So, if you find a good deal — do not think twice. In the review, we'll explain why exactly you shouldn't hesitate.
⚖️ VERDICT

Saucony Endorphin Shift 3 delivers excellent value for the price. The symphony of high-quality materials and rocker design ensures outstanding performance. You can notice the economy of running in action right on the first run. The shoe is well-made and will last over 500 miles. It is much lighter than the previous version and now can pick up the pace insensibly.
What's HOT? 🔥
Energy-saving cruise
Very durable
More cushioned than the previous version
Reliable heel support
Nudge to accelerate
Also a stylish casual sneaker
What's NOT? 💩
Snug fit but available in wider width
Becomes slippery on a wet surface
It may require 2-3 runs to break in
💰 Pricing
🤔 Comparison


Saucony Endorphin Shift 3
Brooks Ghost 15
Hoka Clifton 9
Asics Novablast 3
💯WR-Rating
92 /100
91 /100
93 /100
94 /100
🪶 Weight
9.4oz
(265g)
10.1oz
(285g)
8.8oz
(250g)
8.8oz
(250g)
☁️ Cushioning
Balanced
(4/5)
Balanced
(4/5)
Balanced
(4/5)
Plush
(5/5)
👠 Stack
39mm
35mm
32mm
31mm
↕️ Drop
4mm
12mm
5mm
8mm
🦶 Toebox
Narrow
Normal
Normal
Normal
↔️ Widths avail
Medium,
Wide
Narrow,
Medium,
Wide,
X-Wide
Medium,
Wide
Medium
🤑 Price
$150
$140
$145
$140
Caveat: I paid for my pair with my own money; the review isn't incentivized in any way.
✅ Whom Is It Perfect For?
It is also an excellent choice if you need just one pair to log all your training and racing miles.
For those who rotate the running shoes, it is a perfect daily trainer for recovery and slow pace.
Besides, it is a very comfortable and good-looking shoe for everyday wear. If your vocation requires you to stand all day or walk a lot — your feet will appreciate the comfort of Endorphin Shift.
❌ Who Shouldn't Buy?
The Endorphin Shift 3 isn't a good choice for the gym because of its 39mm stack height. It can be unstable in dynamic exercises and under weight load.
Also, the different daily training shoes from Saucony are better in the following instances:
Saucony Triumph 21 — for the softest landings and maximal cushioning
Saucony Guide 16 — stability running shoe for under- and over-pronation
Saucony Omni 21 — for flat feet and maximal stability
Saucony Echelon 9 — to accommodate a medical orthotic
On-hand Saucony Endorphin Shift 3 Review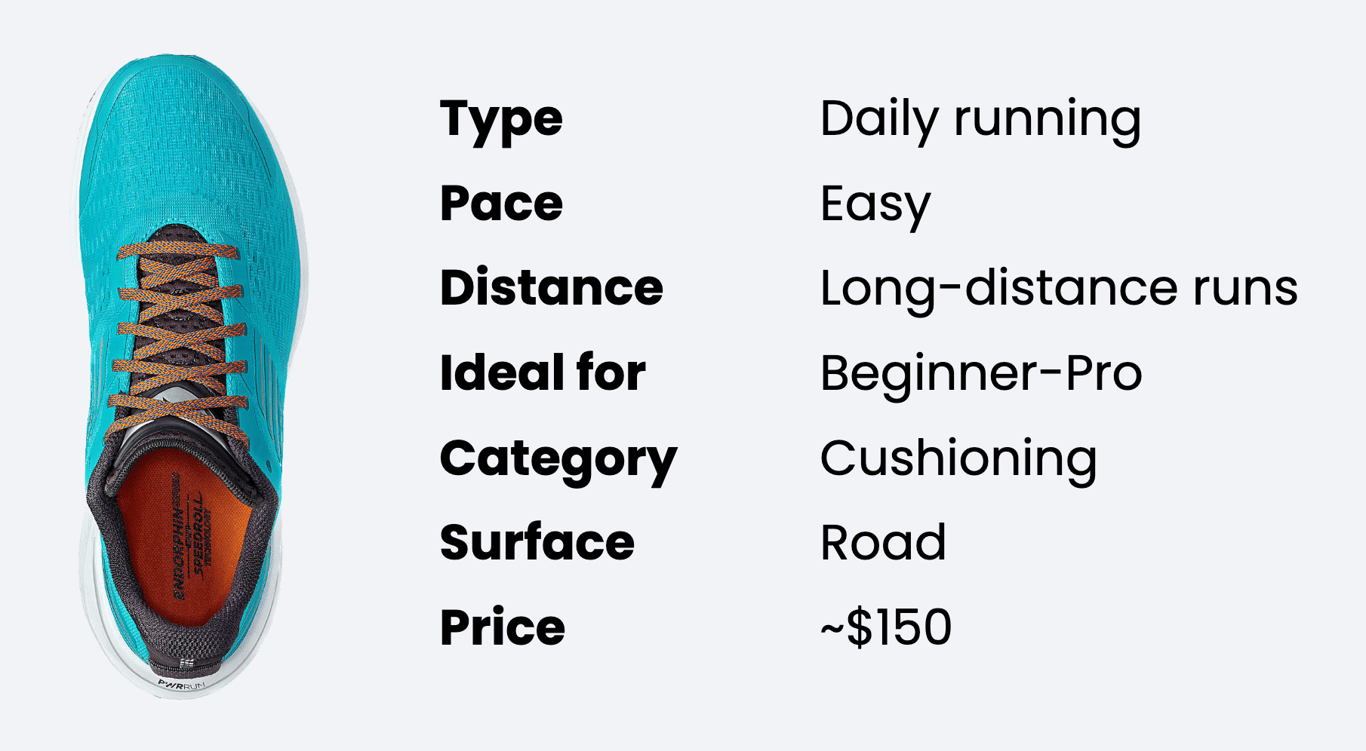 This review will cover:
Performance on the Run
Saucony Endorphin Shift 3 is designed for running economy on recovery and base training. High stack and forward-rolling design nudge for a quick and effortless transition through the stride. The Shift provides a lot of cushion and shock absorption.
Its performance unfolds on 10K+ distances when it's not about the speed but the energy efficiency. You can use it for shorter distances — beginners can even set some personal best. Overall, the Shift is an ideal shoe to prepare for your first marathon and run it conveniently.
Specs and Technologies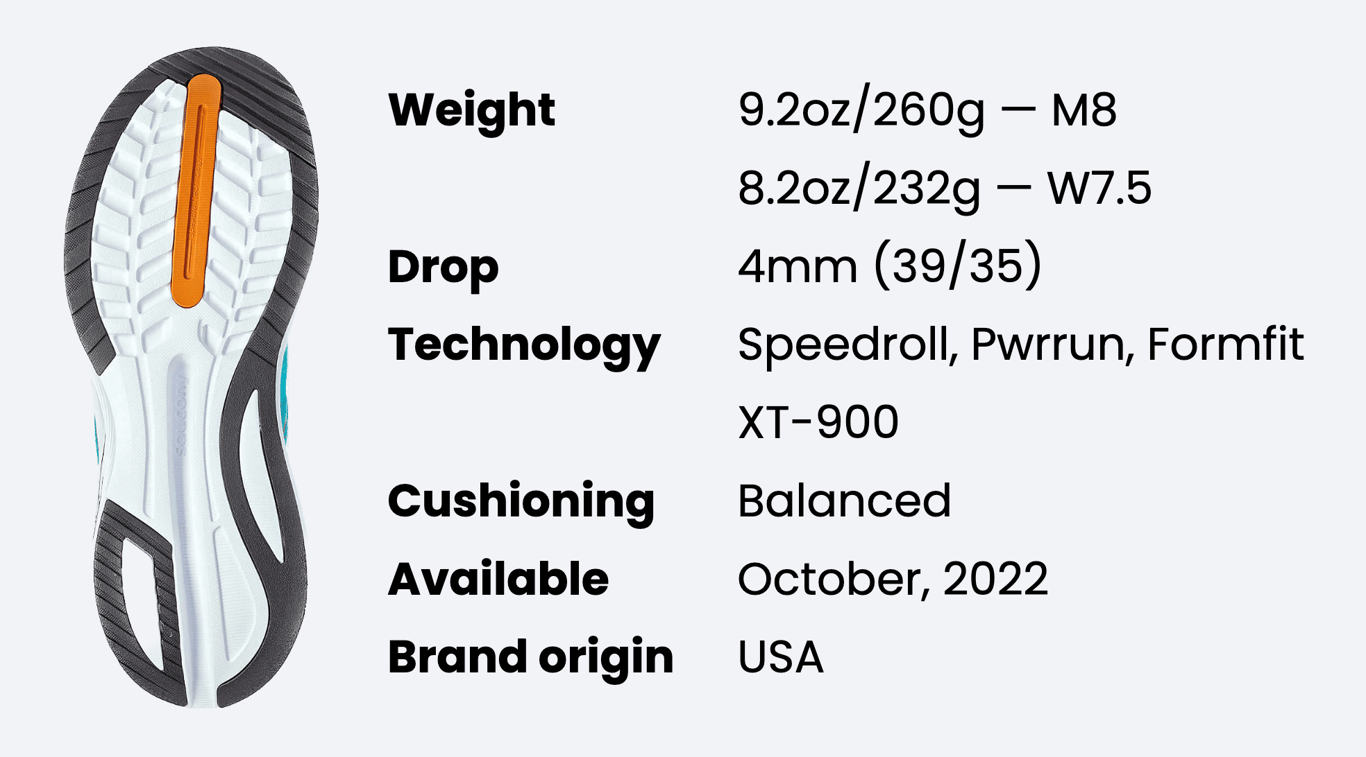 There are four crucial technologies in Saucony Endorphin Shift 3: PWRRUN foam, FORMFIT design, SPEEDROLL midsole, and XT-900 material on the outsole.
The PWRRUN midsole is based on high-quality, durable EVA foam, providing plenty of bounce. The layer became a little thicker in v3 compared to the previous Shift.
The FORMFIT is a deepening in the heel part covered with two layers of foam with different thicknesses and characteristics. It securely fixes the heel and ensures the adaptability of the shoe to your unique foot form and stride.
The SPEEDROLL technology represents a rocker design — a thick midsole and sharp slop on the forefoot. It pushes you ahead right after you incline forward a little bit. The unique design makes long-distance running more efficient and helps pick up the pace easier.
The XT-900 is a carbon rubber layer on the outsole that provides good traction and prevents wearing down the midsole. Like with any other daily trainer, it works well in good weather. However, be careful on a wet, flat surface, as it can easily slide.
Endorphin Shift 3 in the Saucony's lineup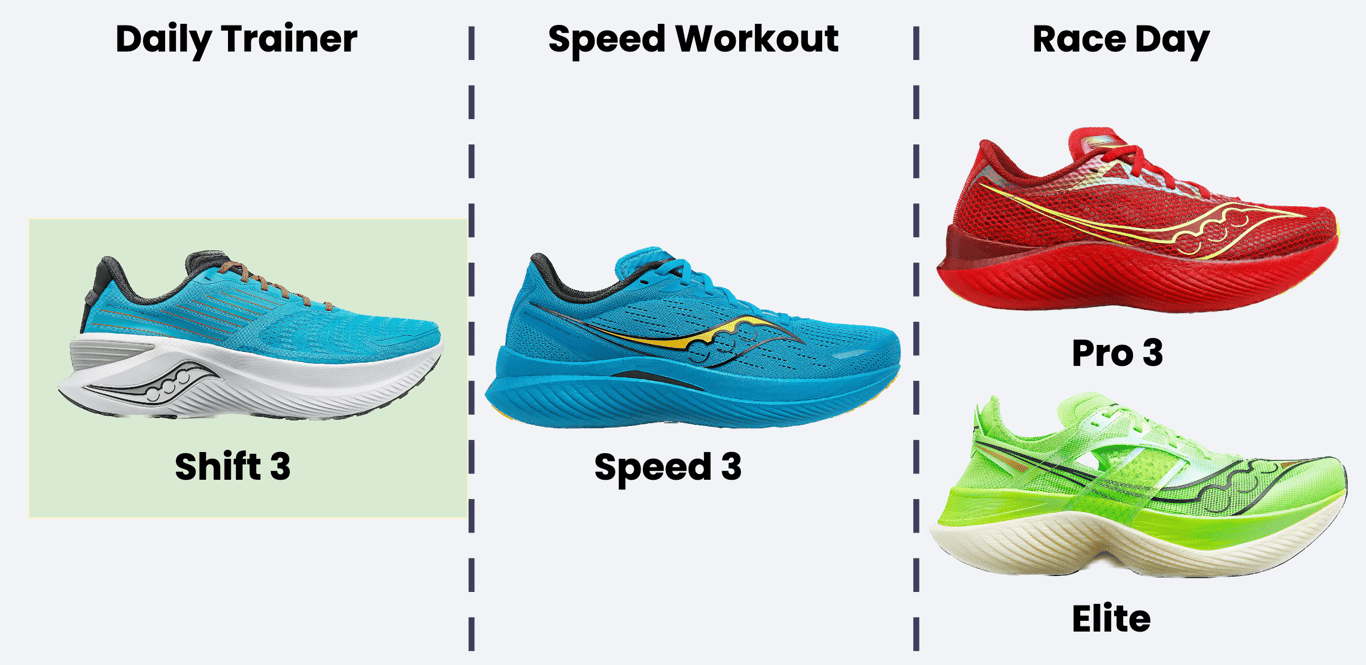 Initially, the Saucony Endorphin was a 3-shoe lineup tailored to cover the professional runners' needs fully:
daily trainers → Endorphin Shift
speed workouts → Endorphin Speed
race day shoes → Endorphin Pro or Endorphin Elite
So, the Endorphin Shift emerged as an improved version of Saucony's basic model — the Ride 16. They overdid it and made a perfect all-in-one running shoe for beginners.
Saucony Endorphin Shift 3 vs. 2

The Shift 2 was a top running shoe, and in the 3rd generation, Saucony made it even better. They increased the foam layer while decreasing the shoe weight — just what every customer dreams about.
The weight loss was achieved mainly by removing the unnecessary plastic clip from the back of the shoe. Most importantly, the stability of the shoe wasn't affected.
Lastly, in the third generation of Shift, Saucony introduced an impressive, bold colorway. They removed the noise and fluff in the design and improved the structure. Overall, the Shift 3 became an appealing casual wear shoe aside from its impressive running characteristics.
Overall, the new generation of the Shift is an impressive shift for the better. Excellent job, Saucony. Other brands, please catch up.
Alternatives
The Saucony Endorphin Shift 3 is an excellent daily trainer, but today, even the best shoes have decent alternatives that might work better for some runners:
Let's explore each Endorphin Shift 3 alternative in detail.
Endorphin Shift 3 vs. Speed 3

Indeed, Endorphin Shift and Speed aren't competing; they were designed for different purposes and running experiences. Both shoes have their places in running shoe rotation. However, they are often compared against each other when the runner needs just one pair.
The Shift is heavier, more stable, comfortable, and dedicated for easy and long runs. It covers the occasional runner's needs and can be used for the entire training cycle — from a recovery run to a marathon.
The Speed has a thinner midsole and, consequently, is more lightweight and less cushioned. It is tailored for speed workouts and short- to medium-distance races. Experienced runners can use the Speed as a daily trainer, but the Shift will be much better in this role.
The nylon plate inside the Speed provides a similar to carbon-plate feel but is more flexible. It improves the energy return and heel-to-toe transition. Additionally, the plastic plate helps your feet adapt, so you'll need less time to break in your first carbon-plated shoes later.
Finally, the Speed 3 costs $20 more. The higher price tag is justified for savvy runners but will make a slight difference for beginners. To get the most out of your shoes and use them efficiently, you need to have both Shift and Speed in your rotation:
The Shift will cover most of your weekly mileage (easy, long, and recovery runs) and pump your muscles meanwhile
With the Speed, you'll beat your records (speed workouts, tempo runs, and race day).
In this way, you will achieve the maximal return on the investments.
Best Deals for Saucony Endorphin Speed 3:
Endorphin Shift 3 vs. Axon 3

Saucony Axon 3 is a simpler, more affordable version of the Endorphin Shift 3. It provides a similar value for a $50 lower price tag because of the cheaper materials. However, the shoes are alike from the comfort, functionality, and durability standpoints.
The only caveat is that six months after release, the Endorphin Shift 3 is almost always on sale. So, check the deals for the two shoes, as the price tags can be comparable.
Best Deals for Saucony Axon 3:
Saucony Endorphin Shift 3 vs. New Balance 1080 v13

The latest iterations of both shoes are surprisingly similar in specs, design, and improvements. Moreover, it seems like NB was inspired by Saucony, which released its shoe a year before.
Anyway, both shoes cover the exact needs and are interchangeable. The only difference is the price point. The Shift 3 is now on sale, while the 1080 v13 costs $15 more than the Saucony's initial price.
Best Deals for New Balance 1080 v13:
Saucony Endorphin Shift 3 vs. Hoka Clifton 9

Both shoes are excellent, high-quality daily trainers that last. They are very comfortable and deliver similar sensations underfoot. Even the price is comparable for both sneakers.
However, the Clifton features a 7mm lower stack and consequently weighs 0.5oz/15g less, even though it doesn't affect performance and cushioning. On the other hand, the colorway of the Shift makes it more suitable for casual daily wear.
Best Deals for Hoka Clifton 9:
Saucony Endorphin Shift 3 vs. Asics Novablast 3

Choosing between the Asics Novablast 3 and the Saucony Endorphin Shift 3 is not easy. Both options are excellent for any running experience. Lastly, the shoes were released in the same timeframe and are on sale now. However, there are a few differences besides the design.
The cushioning in Novablast 3 is plusher despite a slightly lower stack. Moreover, it is also 0.4oz/12g lighter.
If you are vendor-agnostic, I recommend buying the Novablast 3. However, if you find a better deal for the Shift 3 — grab it and run away.
Best Deals for Asics Novablast 3:
Saucony Endorphin Shift 3 vs. Brooks Ghost 15

Brooks Ghost 15 is the most popular daily running shoe in the US, featuring a more traditional look and feel. It is exceptionally durable and comfortable all around.
The Shift 3 is a more rebellious kind of shoe. The stack is high, the look is fresh, and it weighs noticeably 0.7oz/20g less. Lastly, the rocker shape of the midsole significantly decreases the effort you put into each run.
For me, the Saucony Endorphin Shift 3 is the apparent winner. However, I understand the people who stick to the Ghost and won't try other models.
Best Deals for Brooks Ghost 15:
Saucony Endorphin Shift 3 vs. Nike Pegasus 40

Nike Air Zoom Pegasus 40 is a significant competitor of the Endorphin Shift 3. Both shoes are perfect for the entire cycle of training.
The Pegasus can pick up the pace as well as Saucony, but on long distances, the Shift's SPEEDROLL technology delivers better energy efficiency. So, the Endorphin Shift 3 is a better companion for long autopilot cruises.
The killing feature of the Pegasus is its price — it starts from $130 ($20 less than the Shift). However, check the deals for the Shift as lately, it goes on sale very often.
Lastly, Nike offers various tailored-made Pegasus 40 models customized by different states (USA) and NFL clubs. So, if you're looking for a unique pair of sneakers to stand out, check out the Nike deals below.
Best Deals for Nike Pegasus 40:
Do I Recommend Buying Endorphin Shift 3? Would I Buy it Again?
Oh, I definitely will. On a scale of 0 to 10, it's 10. The Endorphin Shift 3 is a good fit for most amateur runners, professionals, and even absolute rookies. I hope the next generation of the shoe will keep the spirit of the model and change only a little bit.
Wisdom Running editors independently select and review everything we recommend. As an Amazon Associate, we earn from qualifying purchases. When you buy through our links, we may earn a commission at no extra cost to you.