I bought a pair of the Brooks Hyperion Tempo 100 miles ago because my current daily trainers didn't keep up the pace well enough and caused me unnecessary load during high-speed running. Recently, I took the shoe on a marathon race and set my personal best. I went from hate to love with the Brooks Hyperion Tempo, and I'll share my personal experience in this review.
⚖️ VERDICT
Brooks Hyperion Tempo is one of the best (if not the best) non-plated speed training and race day shoe for distances from 5K to a marathon. It is surprisingly simple, light, fast, and yet supportive—a perfect fit for your first speedsters. If you find the shoe at a discount, I absolutely recommend buying it.
💰 Pricing
The regular retail price for the running shoe is $150 in the US, which is competitive, considering the alternatives on the market. The Brooks Hyperion Tempo provides excellent value for its price, although check the deals below as it often goes on sale.
🤔 Alternatives & Comparison
As for me, the pricing was decisive: I needed to buy a running shoe for speed training, had three comparable models in mind (see the table above), and ended up buying the one available at a greater discount. So, I paid $82 for my pair of Hyperion Tempos on Amazon. I consider it a steal.
✅ Whom Is It Perfect For?
The Brooks Hyperion Tempo is a perfect second pair of running shoes for speed training and a race. Also, if you prefer minimalistic trainers on a low stack, they will make a great match. So, if you enjoyed Saucony Kinvara, Adidas SL 20, you'll love this one too.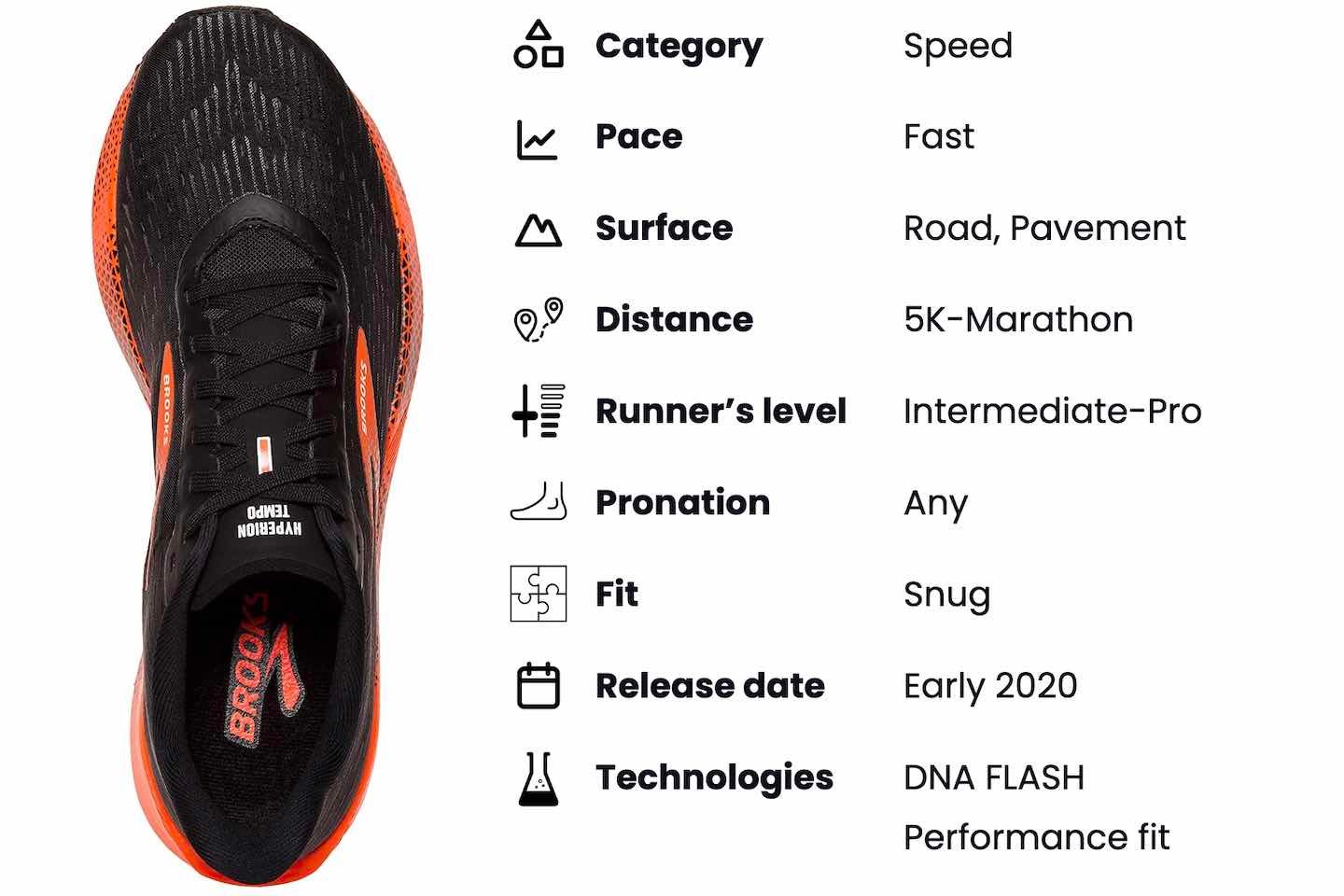 ❌ Who Shouldn't Buy?
The Brooks Hyperion Tempo isn't a good fit for total beginners as it can't substitute regular daily trainers. If you need a versatile running shoe to log all your miles, check Brooks Ghost, Saucony Endorphin Shift, or Nike Pegasus instead.
Also, if you prefer maximalist shoes with high stack, try Saucony Endorphin Speed or Nike Air Zoom Tempo Next%. Additionally, each of them features a plastic plate that will prepare your legs for your first carbon-plate trainers.
On-hand Brooks Hyperion Tempo Review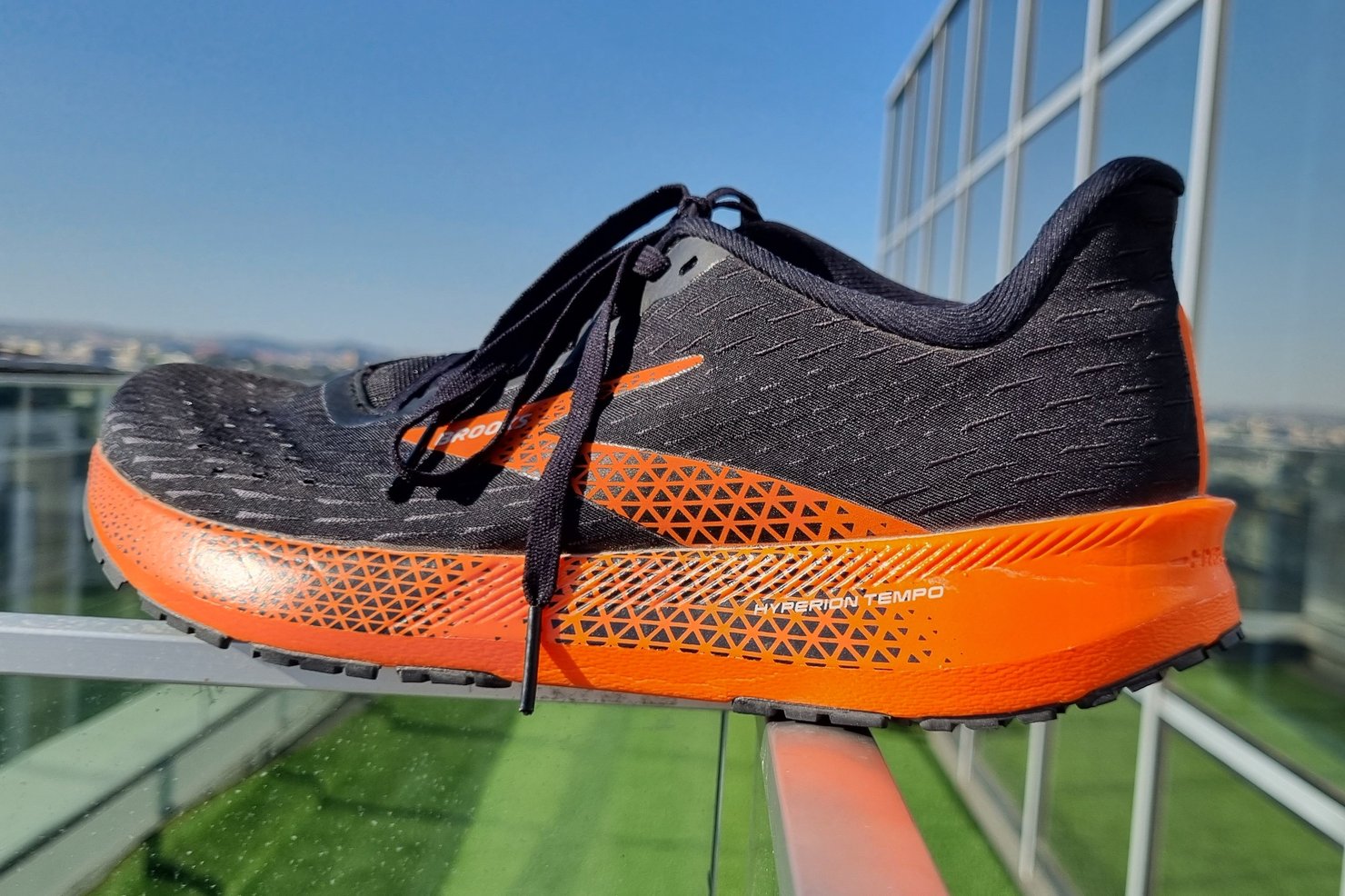 Let's delve into different aspects of the Brooks Hyperion Tempo to understand what the running shoe offers and how it stands out. We'll review the following:
The Upper Unit is Snug and Breathable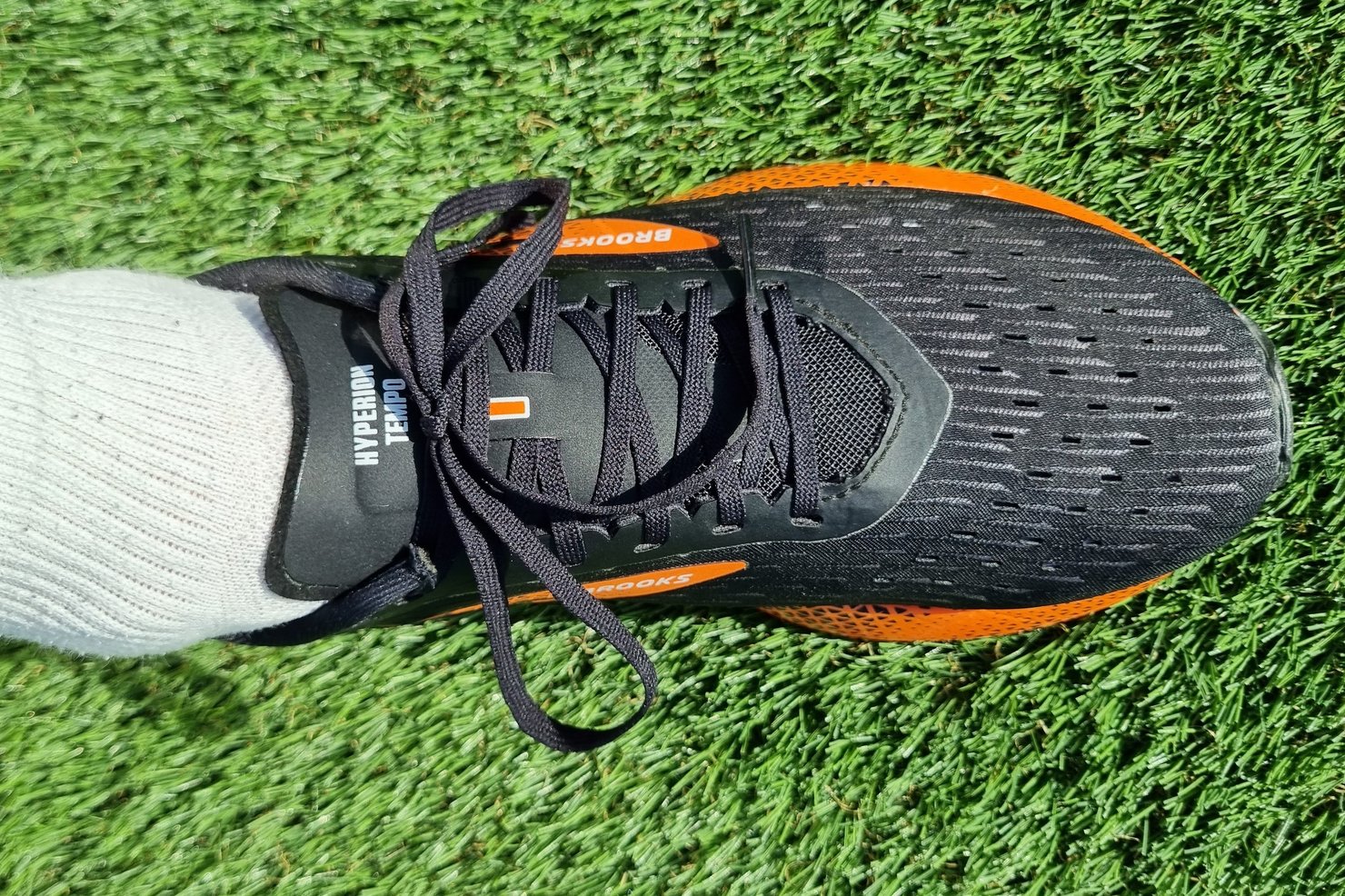 The upper is made of a single layer of lightweight, breathable woven material with engineered holes in the forefoot. It is made of high-quality materials and has a sleek and stylish appearance.
The lacing system of Brooks Hyperion Tempo isn't the advantage part of the running shoe. The laces are slim and very stretchy. They are easy to crawl and difficult to tight conveniently. Even if you did, after several miles, you will feel like you want to lace up the shoe tighter.
Stretched upper and laces comfortably wrap the foot but move with it. Some runners find additional comfort here, but for me, it caused a blister during the first long run. Although after 80 miles and a marathon race, my feet adapted and had no further problems.
The tongue is thin, dense, and non-gusseted. It covers the foot loosely and doesn't weigh anything—just what you expect from the speed-running trainer. The collar contains soft pads that provide secure hill lock and comfort all around—the standard features for daily trainers but unexpected in lightweight speedsters.
The Midsole is Where the Magic Happens
The midsole is responsive and nicely returns energy, absorbing shock with each stride. It has a lower stack but provides enough cushioning and comfort. The shoe has an 8mm hill-to-toe drop that challenges you to run faster and more energy-effectively.
The midsole features low-stack DNA FLASH foam infused with nitrogen during the production stage. The "FLASH" part ensures speed and performance, while "DNA" adapts the midsole geometry to your unique feet form and stride.
The performance of the midsole unit during running sets the Brooks Hyperion Tempo apart from the competition. There are no tech innovations in the shoe—it is simply built yet high-performing, ultra-light, and super-convenient.
The Outsole is Grippy and Durable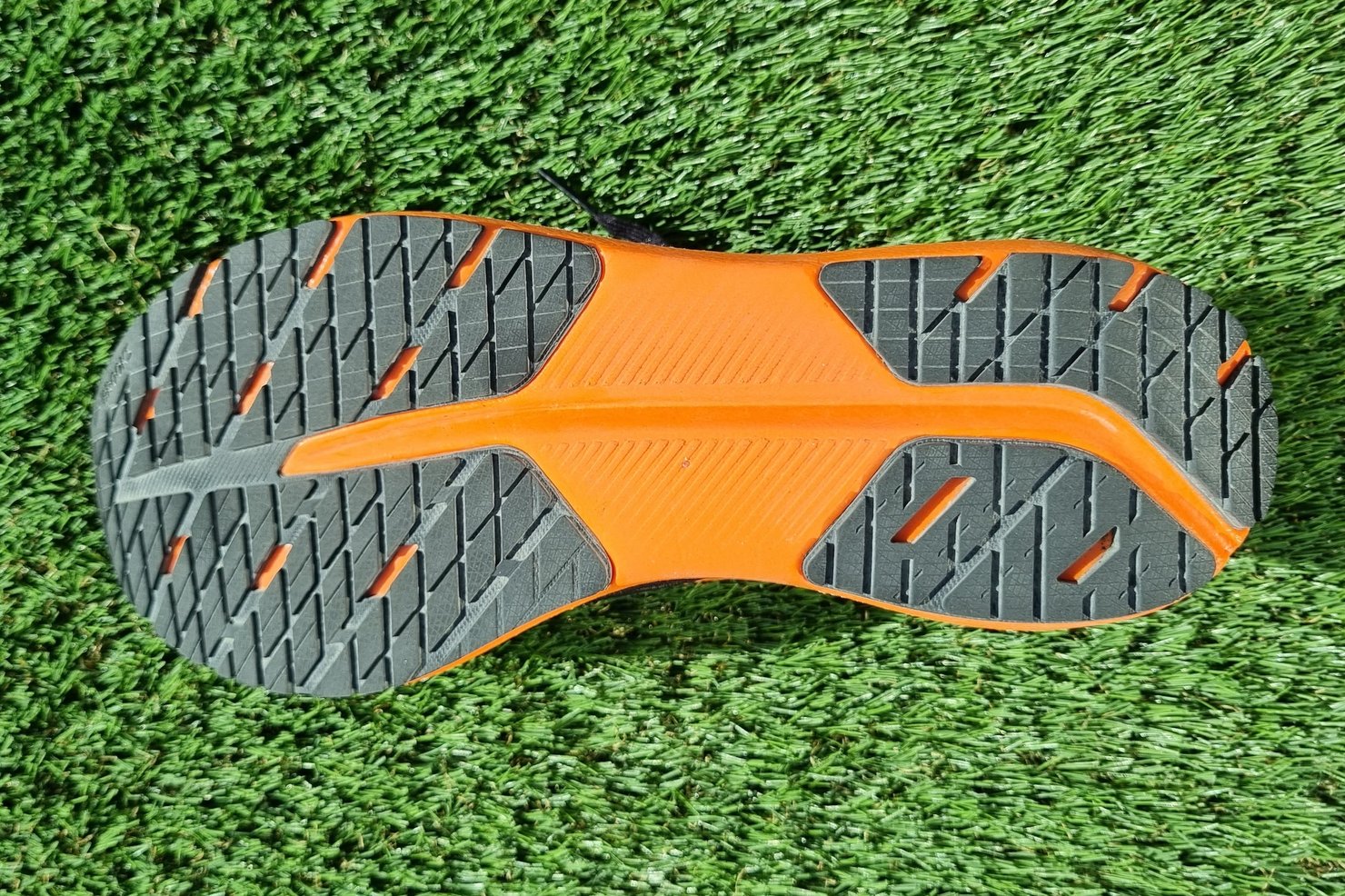 The outsole provided me with secure traction and grip even on wet paving slabs. It also ensures good stability and a smooth ride on gravel. After 100 miles with Brooks Hyperion Tempo, the rubber doesn't seem to start wearing down or lose grip. I expect the rest of the running shoe will fall apart sooner than the outsole.
The outsole features a generous 5mm layer of blown rubber in the forefoot and hill part—where the sole wears down the most. There is also a groove in the midfoot where the foam isn't covered with rubber. The tread pattern is firm, bold, and expressive.
How does the Brooks Hyperion Tempo fit?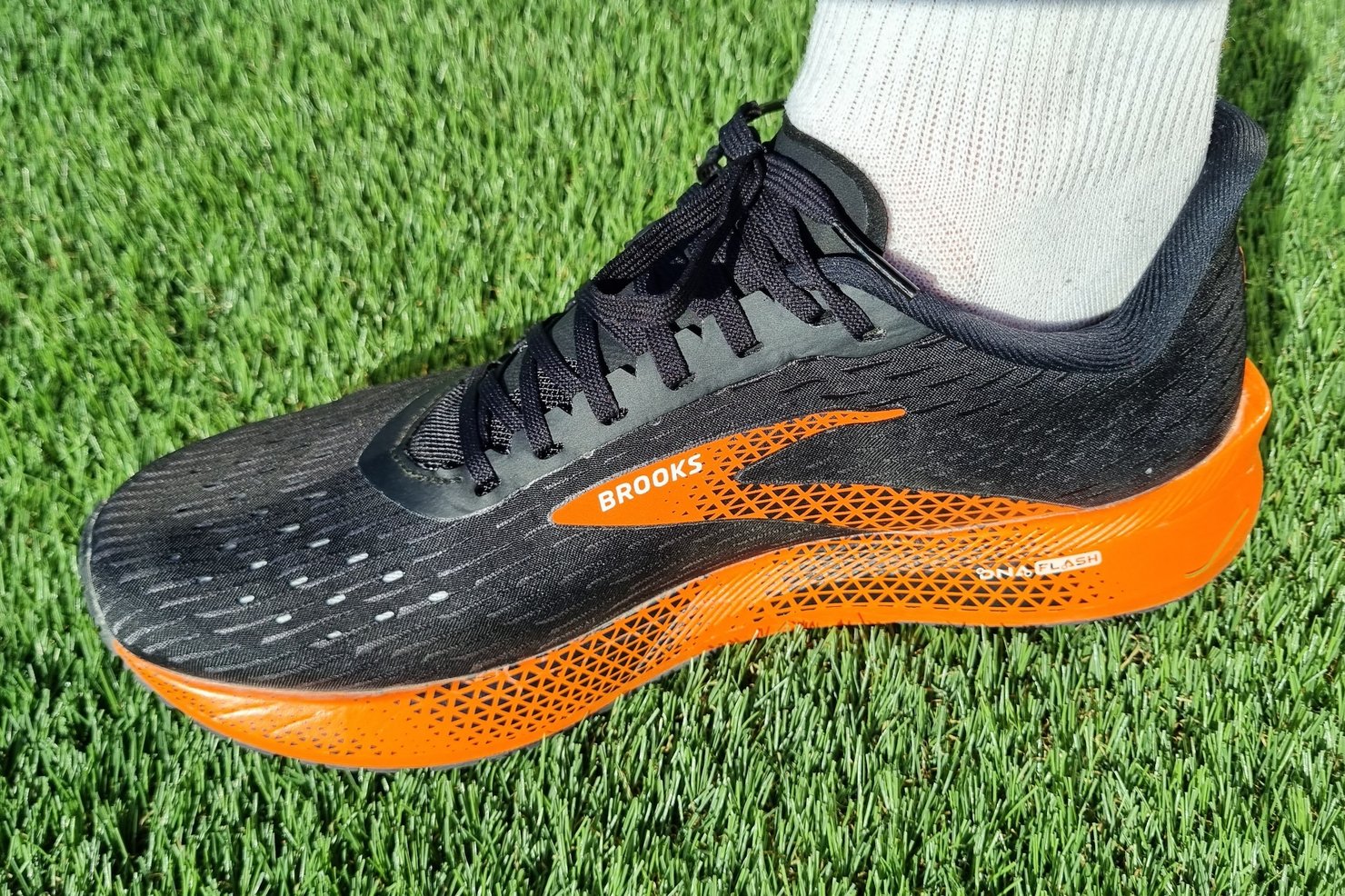 The Brooks Hyperion Tempo provides a secure fit that keeps the foot stable and supported throughout a run. It will meet the needs of a wide range of runners.
The toe box is narrow, and the shoe fits snugly—a perfect choice for narrow-foot runners. It is available in the regular width only, so runners with wide feet might be uncomfortable.
Brooks Hyperion Tempo fits any pronation and strike pattern. It is designed for medium and high arch feet and provides neutral arch support. The running shoes are true to size, so you can securely buy them online if you are confident in your size.
Performance
The Brooks Hyperion Tempo delivers a perfect blend of speed and comfort, challenging runners to beat personal bests. It is responsive and energetic and propels you forward with each stride.
Despite the lower stack, the shoe delivers a moderate level of cushioning. Over a few dozen of miles, it adapts to your unique gait, providing a customized and comfortable fit and reducing the risk of injury.
I tried the shoe on the road, trail, and track, and it ensured the traction and stability to perform at my best. I also enjoyed how easy it was to run uphill with the shoe compared to my regular daily trainers.
The Brooks Hyperion Tempo improved my energy efficiency on long distances and speed training. I noticed a slight decrease in heart rate on my usual long-run route, and the activity itself felt easier.
Lastly, I bought my pair of Hyperion Tempos a month ahead of the marathon race, and I bet my personal best by 18 minutes. Isn't it the best proof of high-level performance?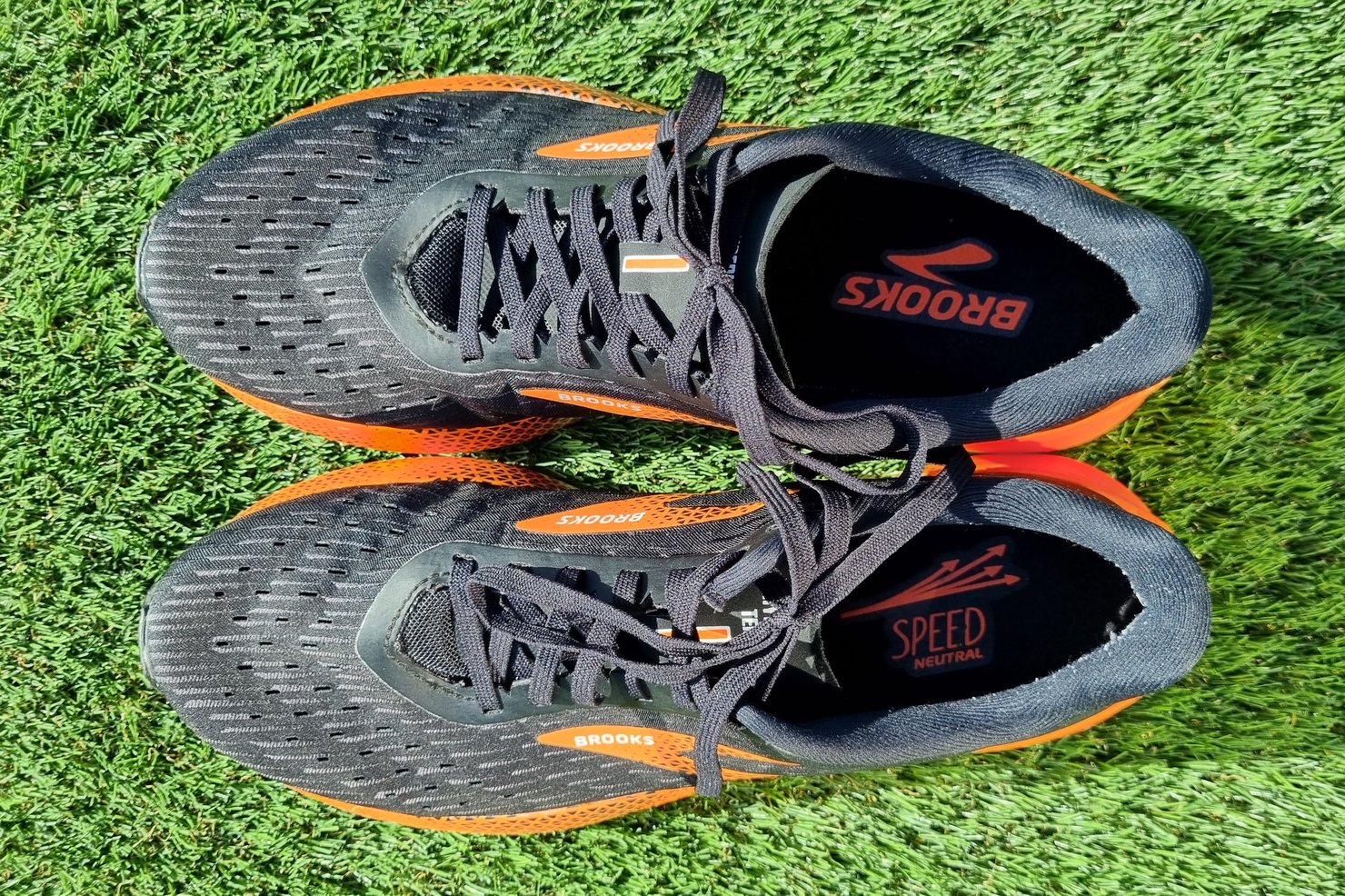 Durability
Impressive longevity is the feature where Brooks running shoes usually stand out, and the Hyperion Tempo isn't an exception. It is built to last, with high-quality materials and construction designed.
The upper is resistant to tearing and stretching, ensuring the shoe maintains its shape and integrity over time. The outsole withstands well the impact of speed workouts and severe terrain.
After 100 miles, I didn't feel any degradation in performance. I suppose Brooks Hyperion Tempo will maintain its feel, look, and consistent performance at least 600 miles—longer than most high-pace models of other popular running shoe brands.
Do I Recommend Buying To a Friend?
I definitely do. For intermediate and professional runners, the shoe will bring plenty of joy on speed sessions and race days. The Brooks Hyperion Tempo is a good value for the price, but if you find it at a discount—do not hesitate.
Would I Buy It Again?
I will probably not. Although I don't regret buying it—the shoe is excellent.
For me, the Brooks Hyperion Tempo worked well at a time when I wanted more speed, but my foot wasn't ready for a carbon plate yet. So, now it is, and I would like to move next level and try high-stack speedsters. It feels like they can make a difference at my current running level.
Final Thoughts
The Brooks Hyperion Tempo isn't the everyday running trainer, nor a unique shoe for race days only. It is something in the middle—a high-performing workhorse for speed running that ensures quick recovery on top.
F.A.Q. about the Brooks Hyperion Tempo
What is Brooks Hyperion Tempo good for?
The Brooks Hyperion Tempo is good for speed. The running shoe fits best intermediate and advanced runners. It provides high performance and comfort on speed workouts and races from 5K to a marathon.
Can you run a marathon in Brooks Hyperion Tempo?
Yes, you can run a marathon in Brooks Hyperion Tempo. The shoe is designed to provide a responsive and energetic ride, with excellent stability and durability, making it a suitable choice for long-distance running.
What type of shoe is Brooks Hyperion Tempo?
Brooks Hyperion Tempo is a performance running shoe for speed workouts, interval training, and long-distance racing.
Is Brooks Hyperion Tempo neutral?
Yes, Brooks Hyperion Tempo is a neutral running shoe. It provides a comfortable ride for runners with a neutral gait and enough foot support without sacrificing weight and performance. It's unsuitable for overpronation or supination.
What is the drop on Brooks Hyperion Tempo?
The heel-to-toe drop (stack) on Brooks Hyperion Tempo is 8mm. The forefoot height is 20mm, while the hill is 28mm.
Does the Brooks Hyperion Tempo have a carbon plate?
No, the Brooks Hyperion Tempo doesn't have a carbon plate. Although the shoe features nitrogen-infused DNA FLASH foam, which is light, responsive, fast, and energy-efficient for distance running.
Wisdom Running editors independently select and review everything we recommend. As an Amazon Associate, we earn from qualifying purchases. When you buy through our links, we may earn a commission at no extra cost to you.