While shopping for my first carbon-plated racing shoes, I shortlisted the three winning options: Eliud's Nike Vaporfly 3, super soft Asics Metaspeed Sky+, and Saucony Endorphin Pro 3.
After reading Kara Goucher's book about the swoosh company, I avoid Nike products if possible. The Metaspeed+ wasn't available in my size. So, I bought the Endorphin Pro 3, which was on sale then. After 100+ miles and a marathon race, I'm sharing my comprehensive review.
⚖️ Verdict

The Saucony Endorphin Pro 3 is a top-tier racing shoe. It stands out with exceptional stability and comfort, which is unexpected in lightweight speed shoes. The model sustains its features longer than the similar models on the market. Overall, the Endorphin Pro 3 provides the highest value for the money among high-end carbon-plated racing shoes.
What's HOT? 🔥
Speed-Centric Design
Incorporates an aggressive carbon plate, rocker geometry, and improved PWRRUN PB foam for enhanced propulsion and cushioning.
Exceptional Performance
A combination of responsiveness, lightweight, comfort, and energy return makes it ideal for long-distance racing and high-intensity workouts.
Extraordinary Longevity
Maintains performance and features from out of the box to 600+ miles, showcasing its consistent durability.
Superb Breathability
The upper is very light, balancing snugness and roominess, delivering absolute comfort.
Adaptability and Versatility
Adapts to diverse running styles and distances, catering to beginners and savvy runners, heel and forefoot strikers.
Value for Money
The shoe's retail price is slightly lower than the other similar carbon-plated racers, providing unbeatable value for the cost.
What's NOT? 💩
Very Fast, but not the fastest
The elite runners that make every second count and every stride matter usually set records in lighter, less comfortable shoes.
Responsive Ride
I enjoyed the responsiveness and energy return of the shoe. However, some runners might prefer a plushier ride as individual preferences play a role.
🤔 Comparison and Alternatives
| Criterion | Saucony Endorphin Pro 3 | Nike Vaporfly 3 | Asics Metaspeed Sky+ | Adidas Adios Pro 3 |
| --- | --- | --- | --- | --- |
| 💯WR-rating | 92 /100 | 93 /100 | 92 /100 | 90 /100 |
| 🪶 Weight | 7.3oz (207g) | 6.6oz (188g) | 7.0oz (198g) | 7.7oz (218g) |
| ☁️ Cushion | Balanced (4/5) | Plush (5/5) | Balanced (4/5) | Moderate (3/5) |
| 👠 Stack | 39.5mm | 40mm | 39mm | 39.5mm |
| ↕️ Drop | 8mm | 8mm | 5mm | 6.5mm |
| 🦶 Toebox | Medium | Narrow | Medium, Wide | Short |
| 💰 Price | $225 | $250 | $250 | $250 |
🤑 Best Deals for Saucony Endorphin Pro 3
✅ Whom is the Endorphin Pro 3 best for?
The Saucony Endorphin Pro 3 is ideal for the first carbon-plated racing shoes. It provides extraordinary comfort and stability for top-performing and extremely lightweight racing shoes. The shoe accommodates both heel strikers and forefoot strikers equally well.
Also, it's the best choice for runners searching for a more durable carbon-plated racing or speed training shoe.
Lastly, the Endorphin Pro 3 is an excellent choice for runners who prefer a slightly more responsive cushion than the Vaporfly 3 and Metaspeed Sky+ provide.
❌ Who should not buy it?
Runners who prioritize maximal cushioning in racing shoes or those looking for extreme minimalism might prefer other options in the market.
Also, if you're training for a 4+ hour marathon, the carbon-plated shoes, like Endorphin Pro 3, can do more harm than good.
Lastly, budget-conscious buyers seeking the most affordable carbon-infused shoes might need to wait for seasonal sales or consider other options.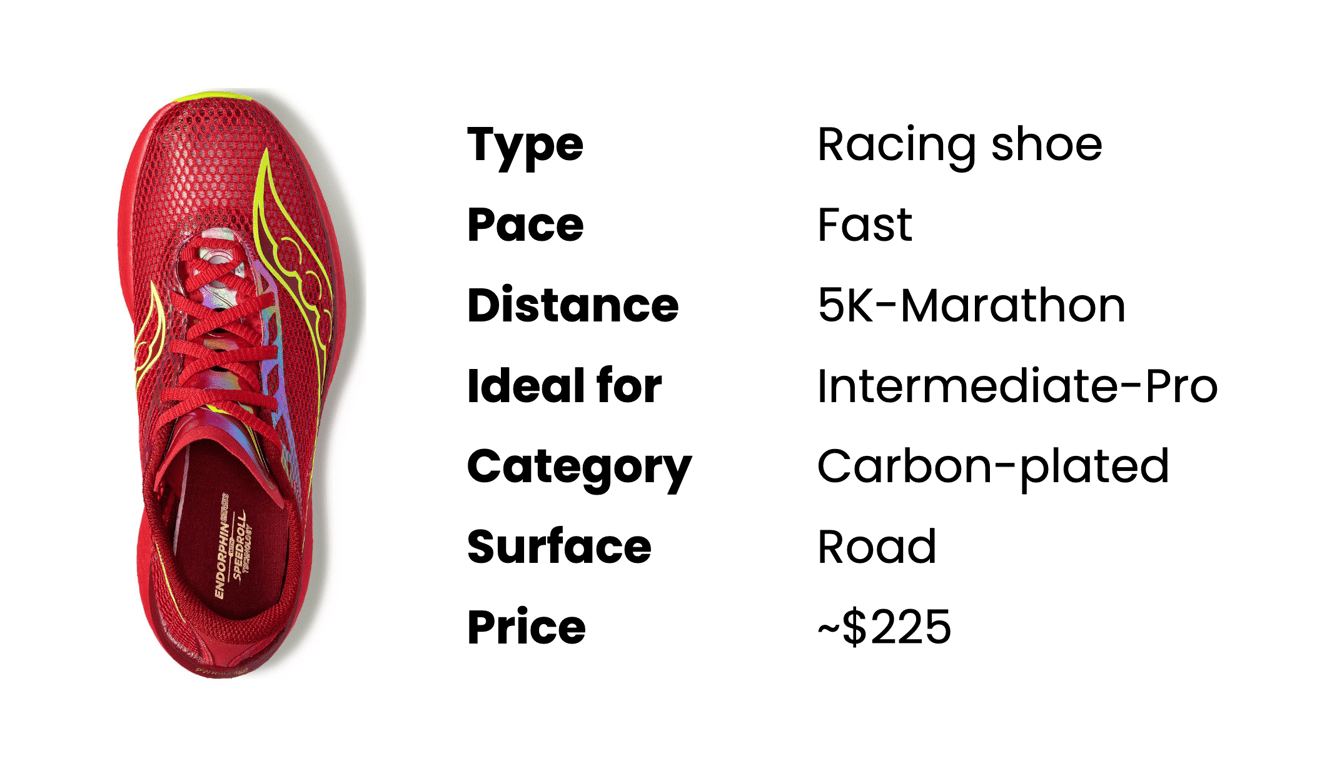 🤓 On-hand Saucony Endorphin Pro 3 Review After 100 Miles
The Endorphin Pro 3 consistently delivers an exceptional performance from its first use. I set my new PBs shortly after breaking in the shoe.
The Endorphin Pro 3 demonstrates a remarkable longevity that extends beyond the expected lifespan of racing shoes. Many runners prolonge their usage by downgrading them to speed trainers after 400-500 miles of racing.
In a market where high-performance racing shoes often come with exorbitant price tags, the Endorphin Pro 3 is available for a relatively low price—$225. However, the shoe delivers a much higher value for longer than the price tag suggests.
Features & Technologies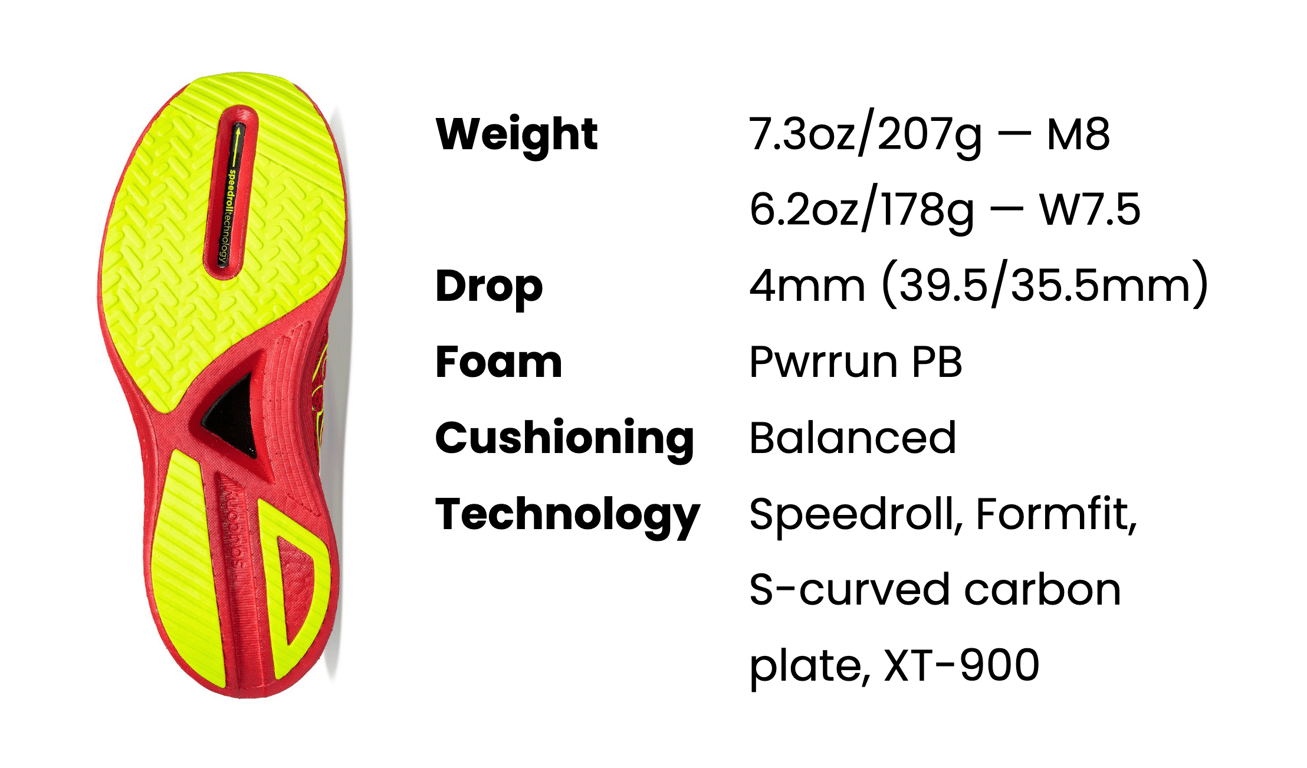 At the heart of the Endorphin Pro 3 lies a rocker design ensured by the SPEEDROLL technologies. It delivers running economy and elevates performance on high-intensity workouts and races.
The 3D FORMFIT technology combines a stretchy upper and a flexible insole, delivering a personalized fit and unparalleled comfort for your unique foot form. The tongue is gusseted, ensuring the absence of pinching and chafing.
The mesh upper is snug in the midfoot and roomy in the toe box, providing a secure and comfortable lockdown. Can you make the upper more breathable? I doubt you can; it constantly keeps your feet dry and comfortable in warm weather and during instance workouts.
The shoe's platform is extended to the sides, providing excellent stability, unusual for high-performance racing shoes. The feature makes breaking in smoother and helps beginners adapt to the carbon plate faster.
The shoe incorporates an S-curved carbon-fiber plate alongside the beaded PWRRUN PB foam, creating a harmonious blend of propulsion, responsiveness, and cushioning. As a result, you get an improved running efficiency and better results.
The outsole contains the exposed midsole foam and XT-900 carbon rubber in the crucial places. The latter provides a secure grip while being lightweight.
The PRO in the Saucony Endorphin Lineup and Rotation
The Endorphin lineup consists of four shoes:
The Shift — as a daily trainer
The Speed — as a speed workout shoe
The Pro — as an entry-level racing model
The Elite — as an advanced-level racing shoe
So, for the typical training rotation of three shoes, you need only to decide whether you go with the Pro or the Elite. Also, consider a lighter Ride 16 or a softer Triumph 21 instead of the Shift.
To diversify your rotation with different brands, the other shoes that go well with the Endorphin Pro 3 include the following:
Daily Trainers: Brooks Ghost 15, Hoka Clifton 9, Asics Cumulus 25
Speed Shoes: Adidas Takumi Sen 9, Hoka Mach 5, Asics Superblast
Saucony Endorphin Pro 3 vs. 2: What's changed?

The Saucony Endorphin Pro 2 was a great racing shoe, but the Pro 3 is a significant improvement.
First, the stack height has taken a step up by 4mm, soaring to 39.5 millimeters in the heel, just under the world athletics limit. The increased layer of a superlight PowerRun PB made the shoe much softer and elevated performance significantly. The midsole was also extended to the side, introducing more stability in every landing.
Despite the increased stack, the shoe became appr. 0.5oz (15g) lighter thanks to the strategic cuts in the midsole, where the foam isn't necessary. Consequently, the lighter the shoe, the faster you run.
In contrast to the midsole, the upper shrank to the bare minimum without any degradation in foot lockdown and comfort. It's even more breathable and light now.
Overall, the Pro 3 has evolved and raised the bar in cushioning, comfort, breathability, and, of course, performance.
Saucony Endorphin Pro 3 Alternatives
Saucony Endorphin Pro vs. Elite: What is Better?

The Saucony Endorphin Elite and the Pro 3 are top-tier racing footwear.
The Elite leans towards firmness and has a more aggressive profile that propels you into rapid turnovers and energetic heel-to-toe transitions. It's a better choice for advanced runners, especially those relying primarily on high cadence during the race.
The Endorphin Pro 3 is a more versatile and forgiving racing shoe. It is better for savvy beginners and intermediate runners transitioning to carbon-plated shoes. Also, it is a perfect fit for the athletes, leveraging mainly the stride length to achieve peak performance.
Last but not least, the Elite with its controversial added value, costs $50 more.
Best Deals for Saucony Endorphin Elite
Endorphin Pro 3 vs. Nike Vaporfly 3

Regarding cushioning, both shoes are A-players, but with a different approach. The Endorphin Pro 3 provides a lively yet responsive feel underfoot, focusing on energy return. However, the Vaporfly 3 leans more towards the plush side without sacrificing speed.
If you're all about shaving off seconds from your personal best, here's where the Vaporfly 3 stands out. It's ultralight among super lightweight shoes. The Endorphin Pro 3 isn't heavy by any means, but the Vaporfly 3 gives you an extra boost when you're gunning for your fastest times.
The Endorphin Pro 3 takes the crown in the competition of fit and feel. It's like slipping your foot into a glove – snug, secure, and ready to tackle miles seamlessly. The Vaporfly 3 isn't as comfy as its counterpart, but it has no critical issues with the fit. After a while, your feet will inevitably adapt.
Finally, from the durability point, the Endorphin Pro 3 maintains its features by 100-200 miles longer. The Vaporfly Next% 3 won't fall apart much sooner, but the sensation of super soft foam and aggressive plate working together will evaporate gradually.
The Saucony Endorphin Pro 3 and the Nike Vaporfly 3 are top-tier contenders. So, it boils down to what you prioritize in a racing shoe. Are you more about the shoe's comfort, responsiveness, and longevity? Take the Endorphin Pro 3. Or are you hungry for speed, with a focus on lightweight and the extra pop? The Vaporfly 3 is a better choice then.
Best Deals for Nike Vaporfly Next% 3
Saucony Endorphin Pro 3 vs. Asics Metaspeed Sky+

Both shoes use a similar foam in the midsole, ensuring a comparable ride. However, the Metaspeed Sky+ is slightly softer, even though it takes some time to break in the shoe properly. The Endorphin Pro 3 is a bit more responsive, delivering a little more energetic feel.
The extended platform of the Endorphin Pro 3 offers more stability and comfort for novice runners. Also, the shoe is more forgiving for the runners with imperfect gait.
From the cost perspective, the base retail price for the Metaspeed Sky+ is $25 higher. It's still a fair price for the technologies and features; however, the Endorphin Pro 3 delivers a higher value per buck.
Best Deals for Asics Metaspeed Sky+
Endorphin Pro 3 vs. Adidas Adios Pro 3

The Endorphin Pro 3 boasts a comfy, soft, and bouncy ride, making it ideal for runners seeking comfort during various paces and distances. On the other hand, the Adios Pro 3 offers a stiffer, more responsive ride tailored towards competitive marathon runners seeking propulsion.
The Endorphin Pro 3 wins in versatility. It performs smoothly from 5K to marathons, offering a comfortable ride at various paces. The Adios Pro 3, however, has a marathon focus. It excels at the long race, maintaining pace with its energy return, but it feels less agile and comfortable at shorter distances.
The Endorphin Pro 3 holds a semi-relaxed upper, delivering lockdown without sacrificing comfort. Its universal design fits a wide range of feet. Meanwhile, the Adios Pro 3's redesigned upper has an unexpectedly short toe box that can cause discomfort for those with wider and even regular feet. So, for most runners, going a half size up is a solution.
The Saucony Endorphin Pro 3 and the Adidas Adios Pro 3 are excellent, high-performance racing shoes. However, the former costs $25 less, and I couldn't find any good reason to justify a higher price tag for the latter.
Best Deals for Adidas Adizero Adios Pro 3
Do I Recommend Buying a Saucony Endorphin Pro 3 to a Friend or Colleague?
I absolutely do. It's an excellent lightweight speed workout and race day shoe. Moreover, the Endorphin Pro 3 is the best first carbon-plated racing shoe for beginner-intermediate runners.
Would I Buy It Again?
If I go back in time, I would definitely repurchase it. However, as I gain more experience, increase PBs, and improve my running technique, I want to try the elite models. Although, if I need a carbon-plated speed trainer, I'll return to the Saucony Endorphin Pro 3 — no doubt.
Wisdom Running editors independently select and review everything we recommend. As an Amazon Associate, we earn from qualifying purchases. When you buy through our links, we may earn a commission at no extra cost to you.