Brooks Ghost became the best-selling adult running shoe of 2022 by NPD Group. So, I bought the latest model, Ghost 15, to discover what makes them unique and so loved by customers. After 100 miles, I'm sharing my comprehensive review.
⚖️ VERDICT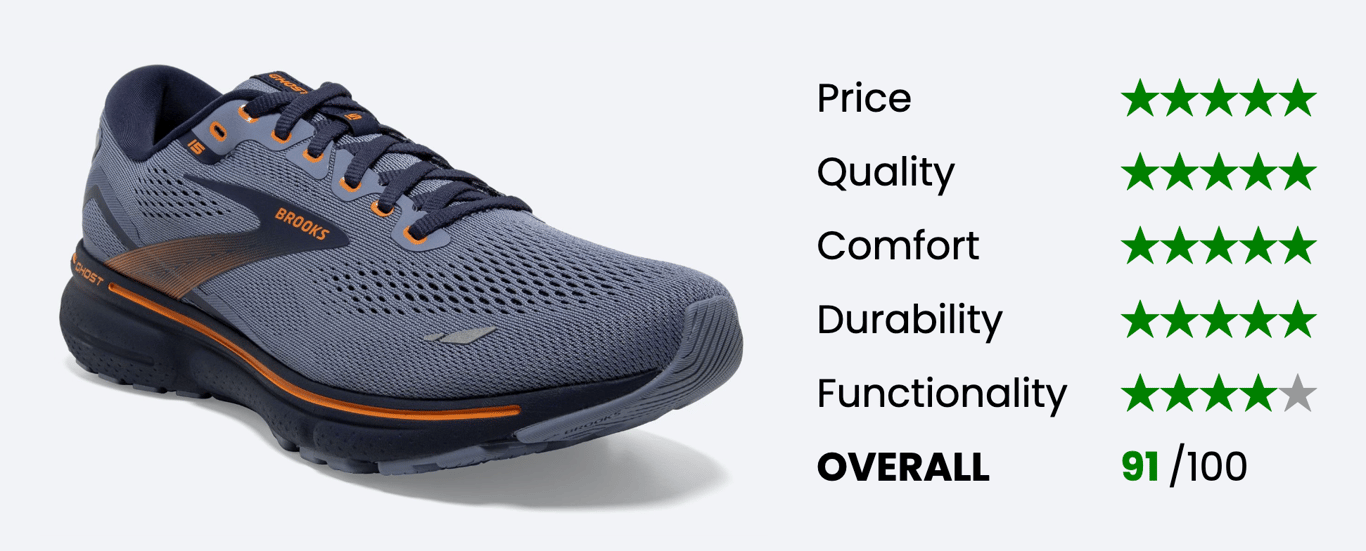 The Brooks Ghost 15 is an excellent daily training shoe that can please even the most demanding runners. It has high-quality construction, a breathable upper, good support, and decent cushioning. The shoe is designed for neutral pronation and is available for any foot width. The Brooks Ghost 15 provides a balanced ride for runners of any level.
What's HOT? 🔥
Super comfortable fit
Extremely durable
Great foot support all around
Very stable and smooth ride
Available in x-wide and x-narrow widths
Excellent traction even in the rain
What's NOT? 💩
Not enough breathability in very hot weather
It could be plushier (like the previous generation)
💰 Pricing
Brooks Ghost 15 isn't cheap. The regular retail price is $140, but it is worth every penny. I bought mine online for $109, which was a steal. Check out the links below — maybe you will be luckier than me.
🤔 Alternatives & Comparison


Brooks Ghost 15
Saucony Endorphin Shift 3
Hoka Clifton 9
Asics Cumulus 25
💯WR-Rating
91 /100
92 /100
93 /100
92 /100
🪶 Weight
10.1oz
(285g)
9.4oz
(265g)
8.8oz
(250g)
9.5oz
(270g)
☁️ Cushioning
Balanced
(4/5)
Balanced
(4/5)
Balanced
(4/5)
Plush
(5/5)
👠 Stack
35mm
39mm
32mm
38mm
↕️ Drop
12mm
4mm
5mm
8mm
🦶 Toebox
Normal
Narrow
Normal
Normal
↔️ Widths avail
Narrow,
Medium,
Wide,
X-Wide
Medium,
Wide
Medium,
Wide
Medium,
Wide,
X-Wide
🤑 Price
$140
$150
$145
$140
Caveat: I paid for my pair with my own money; the vendor or aliases didn't motivate this article.
✅ Who is it best for?
The Brooks Ghost 15 is perfect for beginners who need a pair of versatile running shoes. It handles a variety of distances and surfaces, as well as various training intensities.
For those rotating the shoes, it is an excellent daily trainer to log most of the mileage. The Ghost 15 is also a perfect choice for runners with extra narrow and wide feet, as there are four widths available for both men and women.
Ultimately, if you don't know what running shoes you need and don't want to research much—get Ghost; you won't regret it.
❌ Who should not buy?
Although Brooks Ghost will fit perfectly most runners, there are better alternatives for special foot conditions, like overpronation or flat feet. If you've been experiencing any of those, check the special models tailored to additional support, like Adrenaline GTS 23 or Dyad 11.
The Brooks Ghost 15 On-Hands Review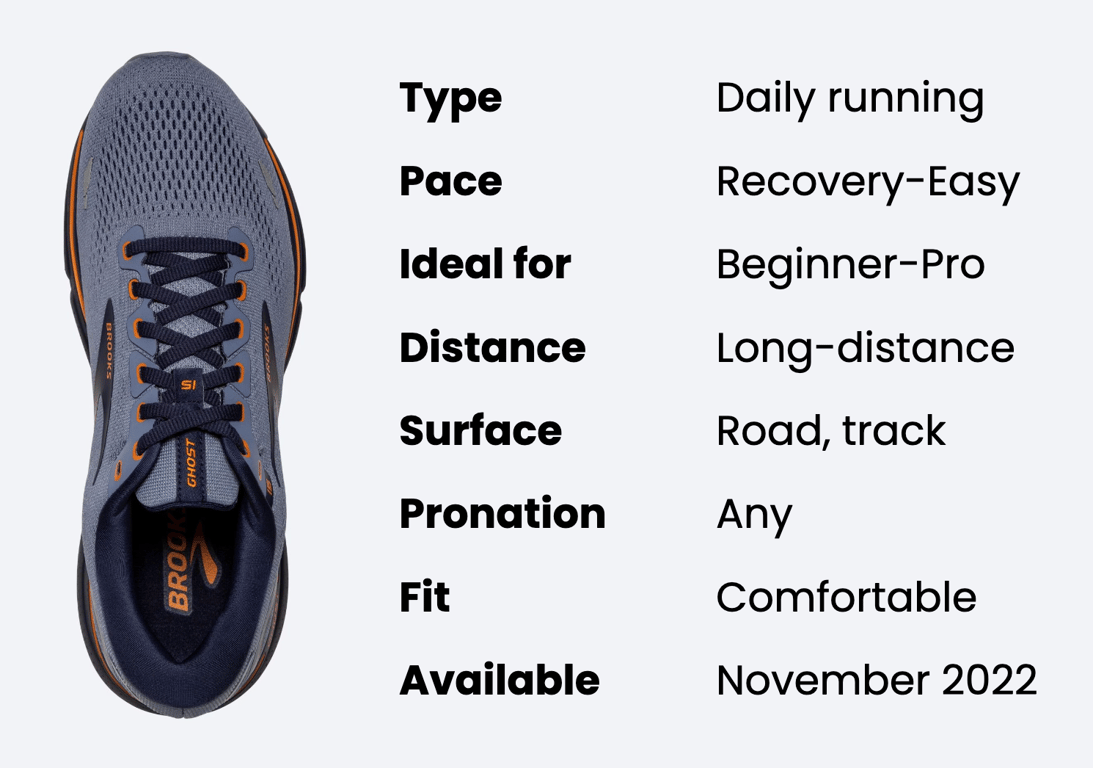 Let's closely review the running shoe and discover where it stands out and what drives performance. We'll cover the following:
The Upper Unit is Flexible and Durable
Ghost 15 has a traditional Brooks upper made of a high-quality, breathable engineering mesh. Usually, it keeps your foot cool and dry. However, expect to dry your shoes after running on hot summer days.
The upper is flexible and durable, featuring a traditional tongue (in 2023, Brooks - really?) and a supportive heel counter.
The Midsole is Balanced and Stable
The sole unit of the Ghost 15 comprises a soft yet durable Brooks' DNA Loft v2 foam that offers plenty of cushioning and support. It adapts to your unique foot form and delivers a soft ride. The crash pad of the Brooks Ghost 15 ensures smooth transitions.
The Outsole Grasps Well, Even on a Wet Road
A sick layer of rubber in the outsole provides excellent traction on various surfaces. It is made of durable material and withstands many miles. The rest of the shoe will likely fall apart sooner than the outsole.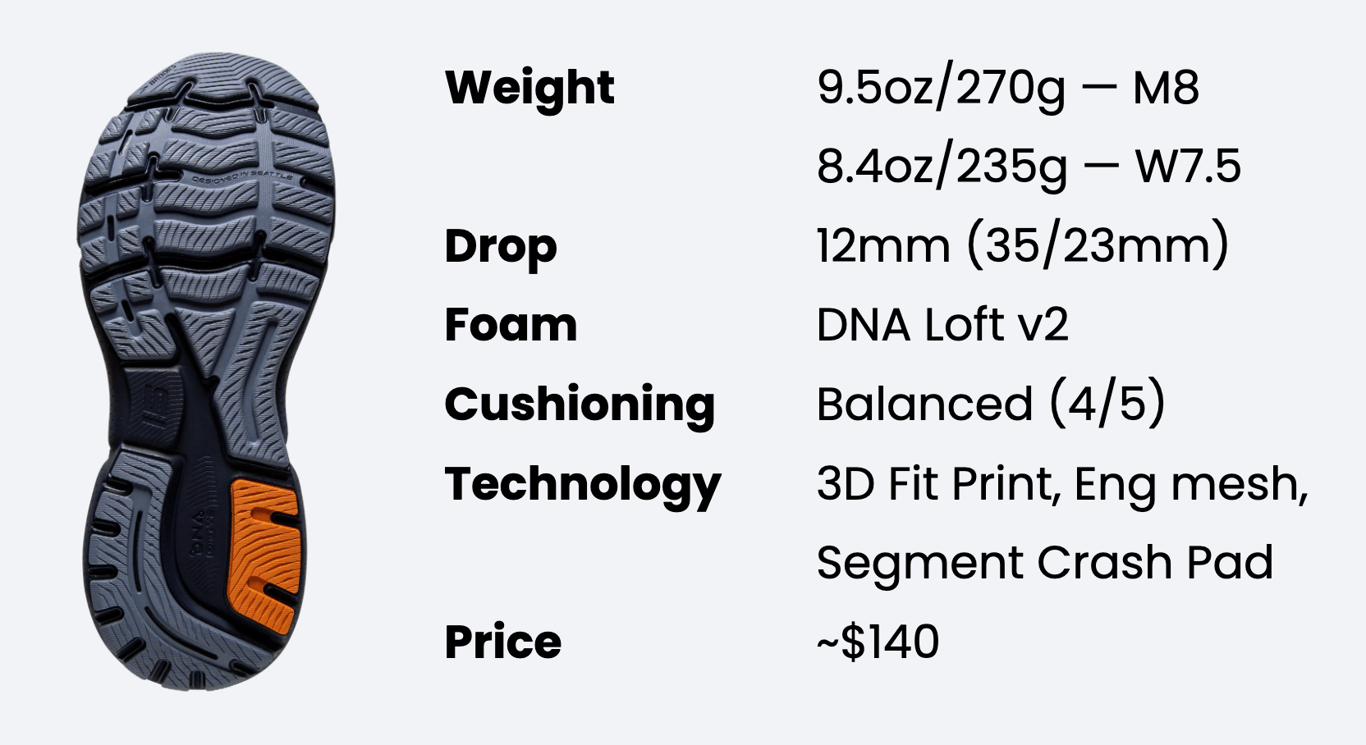 How Does the Brooks Ghost 15 fit?
It is true to size. Moreover, it offers a wide range of widths—from Narrow (2A) to extra-wide (4E). So you can easily find a pair that fits perfectly. Ordering them online is more or less secure. Although, trying on a shoe before buying is always a good idea.
Performance on the Run
Runners praise Ghost 15 for a smooth, comfortable ride, plenty of cushioning, and excellent support. It securely holds your feet in place, absorbs shock, and protects joints.
The 12mm heel-to-toe drop feels unusual initially, but you get used to it quickly. The shoe delivers excellent comfort at a slow pace. However, picking up the pace doesn't come naturally. Beginners can improve their PBs, but it's unlikely to happen for pro athletes.
How long does Brooks Ghost 15 last?
The Brooks Ghost 15 will last longer than you want it to. You get at least 500 daily training miles with the shoe regardless of your running style or training frequency. Moreover, they will look and feel well after hundreds of miles logged.

Sustainability
The Ghost 15 is a certified carbon-neutral running shoe. A medium size of Ghost 15 was built with 6.6 recycled plastic bottles. Also, the upper contains at least 57% recycled polyester.
All-in-all, Brooks has significantly reduced the number of new materials needed to produce the Ghost 15, making it a more environmentally friendly choice than many other running shoes.
What has changed compared to the previous model?

The Ghost 15 is a minor update—the Brooks decided not to change the winning formula of the 14th. And the shoe became better. Tiny improvements are everywhere, from upper and midsole to outsole and laces. The Ghost 15 increased the amount of recycled materials used in production without changes to the quality.
Would I recommend Brooks Ghost 15 to a friend?
Yes. The running shoe is always good in your arsenal—a lovely present for a runner regardless of their running experience. The Brooks Ghost isn't the cheapest running shoe on the market, but it is worth the investment for its comfort, quality, and durability.
Can you run a marathon in Brooks Ghost 15?
Yes, you can run a marathon in Brooks Ghost 15 shoes. The running shoe is an excellent choice if your target marathon time is over four hours. For faster athletes, it won't provide an advantage in the race, unlike lightweight speed shoes.
What are the alternatives to Brooks Ghost 15?
Here are a few decent Ghost 15 alternatives from Brooks and other popular brands that you might consider:
Let's explore each Brooks Ghost 15 alternative in a bit more detail.
Brooks Ghost 15 vs. Adrenaline GTS 23

The Ghost 15 and the Adrenaline GTS 23 are two of Brooks' most popular running shoes. They are both highly rated by runners and cost approximately the same price.
The crucial difference is that the Brooks Ghost 15 is a neutral daily training shoe, and the Adrenaline GTS 23 is a stability running shoe. It is heavier but provides a more secure fit. Runners with special foot conditions (like overpronation) should prefer the Adrenaline for extra support.
Best Deals for Brooks Adrenaline GTS 23:
Brooks Ghost 15 vs. Glycerin 20

The Ghost 15 and the Glycerin 20 are excellent daily training shoes for neutral feet. However, they differ widely in several aspects.
The Brooks Glycerin 20 is an ideal shoe for runners with excessive weight, providing more cushioning. Besides, it offers better design options. The Brooks Ghost 15, on the other hand, provides two more width options and costs $10 less.
Best Deals for Brooks Glycerin 20:
Brooks Ghost 15 vs. Levitate 6

The main difference is that the Levitate 6 utilizes DNA AMP midsole instead of DNA Loft in Ghost 15. As a result, it provides firm cushioning, better energy return, and a more responsive and energetic feel. Levitate 6 is heavier but delivers a quick heel-to-toe transition and propels you forward with every step. The Levitate 6 also has a knit upper, which ensures a lighter and sleeker feeling.
Overall, Levitate 6 isn't better or worse; it covers daily running needs differently. So it is just a matter of taste—do you prefer a responsive and springy over a protective and soft ride?
Best Deals for Brooks Levitate 6:
Brooks Ghost 15 vs. Saucony Endorphin Shift 3

The Endorphin Shift 3 is the Brooks Ghost 15 in the Saucony's lineup. Both running shoes are excellent daily trainers and competitors on the market.
The Saucony Endorphin Shift 3 is slightly less cushioned and provides a more responsive ride. It has a more snug fit and less room in the toe box. However, the Endorphin Sift 3 is available in wider sizes too.
Best Deals for Saucony Endorphin Shift 3:
Brooks Ghost 15 vs. Nike Pegasus 40

Ghost 15 and Pegasus 40 are the central models of Brooks and Nike, respectively. Each shoe is a great option—you won't regret buying any of them.
The Pegasus is more lightweight and better at picking up the pace. It can be decisive if you use a single pair of running shoes for racing and all types of training. However, it isn't crucial for daily trainers for those who rotate running shoes.
The Ghost 15, on the other hand, provides more support and offers more width options.
Best Deals for Nike Pegasus 40:
Brooks Ghost 15 vs. Asics Cumulus 25

The Ghost 15 and the Cumulus 25 are both high-quality, all-purpose running shoes made of recyclable materials.
Ghost delivers slightly better stability and comfort, while Cumulus 25 is a more lightweight and rapid shoe. However, the Cumulus is less durable because the outsole rubber and GEL unit in the rearfoot wear down quickly.
Best Deals for Asics Cumulus 25:
Brooks Ghost 15 vs. Hoka Clifton 9

Ghost 15 and Clifton 9 are excellent daily running shoes for recovery and easy runs. However, they feel differently on the run, as the Hoka Clifton 9 has a 5mm heel-to-toe drop compared to a 12mm transition in the Ghost 15.
The Clifton weighs less and performs better when you need to pick the pace up. At the same time, Ghost provides more cushion and is more durable.
Best Deals for Hoka Clifton 9:
Wisdom Running editors independently select and review everything we recommend. As an Amazon Associate, we earn from qualifying purchases. When you buy through our links, we may earn a commission at no extra cost to you.