When starting to run regularly, I was picky with choosing my next pair of running footwear. I knew reputable athletic brands, was budget-conscious, and heard from experienced peers that being lightweight is the most critical feature of the best running shoes for beginners.
Little did I know. After thousands of miles and dozens of running shoes (good and bad), I worked out my approach to choosing the perfect running shoes.
I learned my lesson the hard way. In the article, I'll explain my approach and provide the top picks for the best running shoes for beginners.
The 10 Best Running Shoes for Beginners Right Now
Here is the curated list of the best running shoes for beginners, considering essential features for novice runners, availability, and price.
BEST OVERALL

BEST WOMEN'S

BEST MEN'S

BEST ASICS

BEST HOKA

BEST SAUCONY

BEST BROOKS

BEST ADIDAS

BEST NEW BALANCE

BEST NIKE
Overall Best—Asics Novablast 3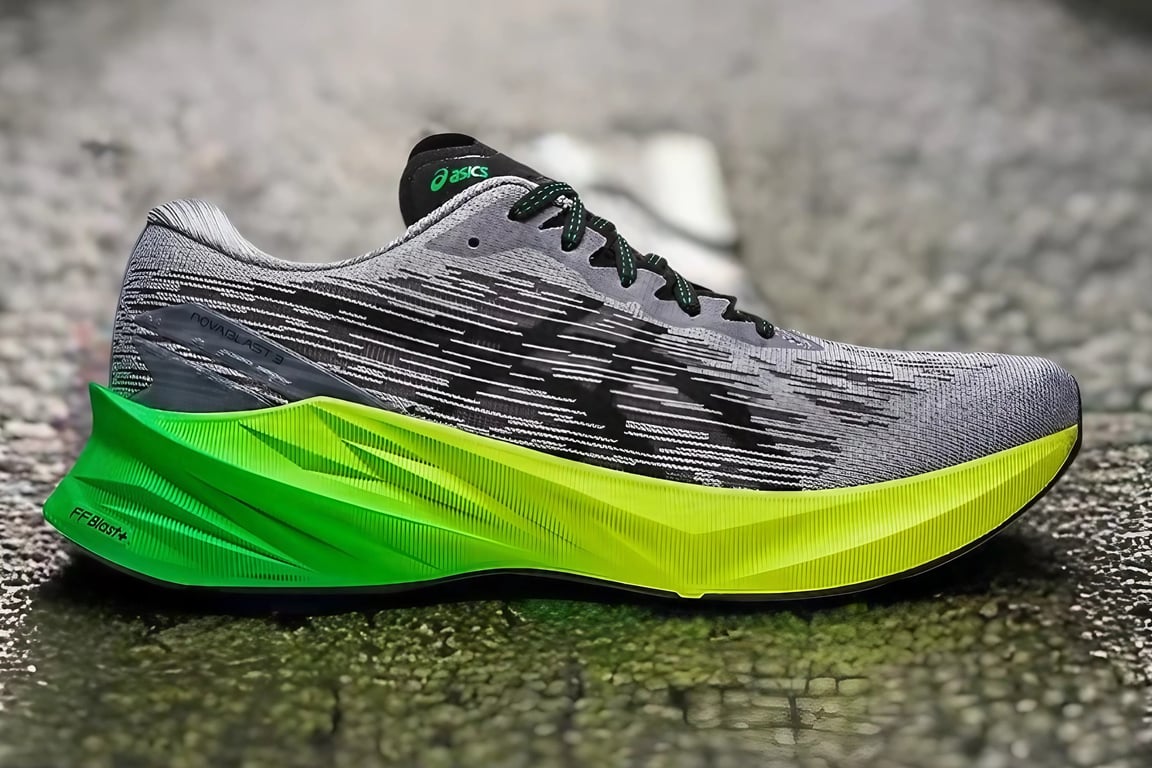 The Asics Novablast 3 is a fusion of comfort, stability, and versatility — precisely what beginners need. It is excellent for easy recovery jogs, long-haul distance runs, and demanding speed workouts.
The FF Blast Plus midsole foam is the secret sauce that's lighter, bouncier, and more durable than its predecessors. Despite its extra bounce, it securely holds your heel and ankle in place.
The mesh upper looks cool and feels cool too. Breathability is on point. It's not afraid of a bit of dirt, tackling dirt roads with just as much prowess as the pavement.
The Novablast 3 is true to size, hugging your feet just as you like it. If you're familiar with the previous Nova Blast models, you'll slide right into these without missing a beat.
For beginners ready to take that first step, the Novablast 3 is your go-to shoe. It's versatile and dependable and turns every run into a joyful adventure.
Key Specs
👠 Stack/Drop: 31/8mm
🪶 Weight: 8.8oz/250g
Pricing for Novablast
Women's Best—New Balance 880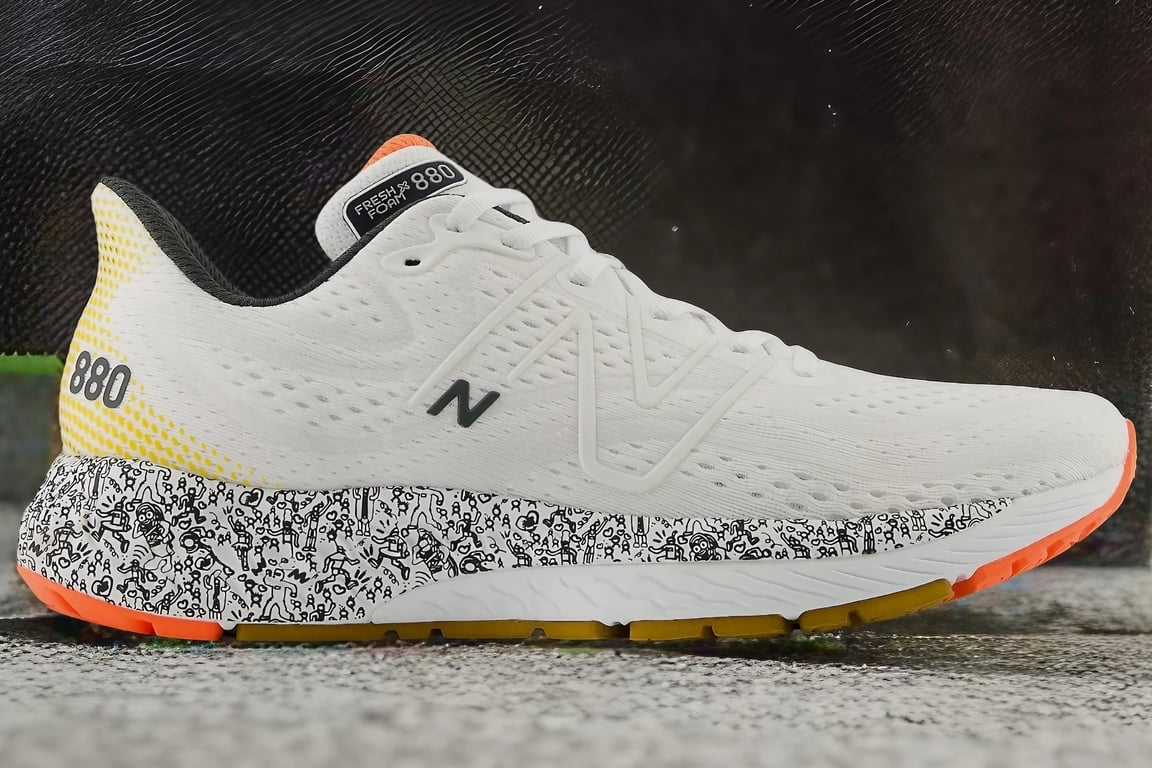 The New Balance Fresh Foam X 880 v13 is a solid choice for beginners stepping into running. It's got your back all around, plain and simple.
It's that versatile go-to that can handle many different types of runs. The 880 can even take a beating even off-road, and that's one of the reasons it stands out.
The proprietary Fresh Foam X material in the midsole provides cushy comfort and a bounce that'll give your runs a little extra vitality. The Fresh Foam X is soft yet protective. It keeps your feet reliable and lively without getting too wild.
This shoe is a neutral cushion shoe, and, for beginners, it will work well whether you're starting slow and steady or planning to conquer half-marathons and full marathons.
When it comes to weight, the shoe isn't heavy. The 880 features a classic 10mm drop, a sweet spot that many folks find comfortable. You put it on, and it just clicks, making it an excellent choice for those just starting out.
The New Balance Fresh Foam X 880 v13 is your partner for early runs and on the way to your running goals. The model has been around for 13 years – it's been tested and improved significantly. It won't weigh you down; it's a shoe you can trust. And for beginners out there, that's a big deal.
Key Specs
👠 Stack/Drop: 37/10mm
🪶 Weight: 10.6oz/300g
Pricing for 880
Men's Best—Saucony Ride 16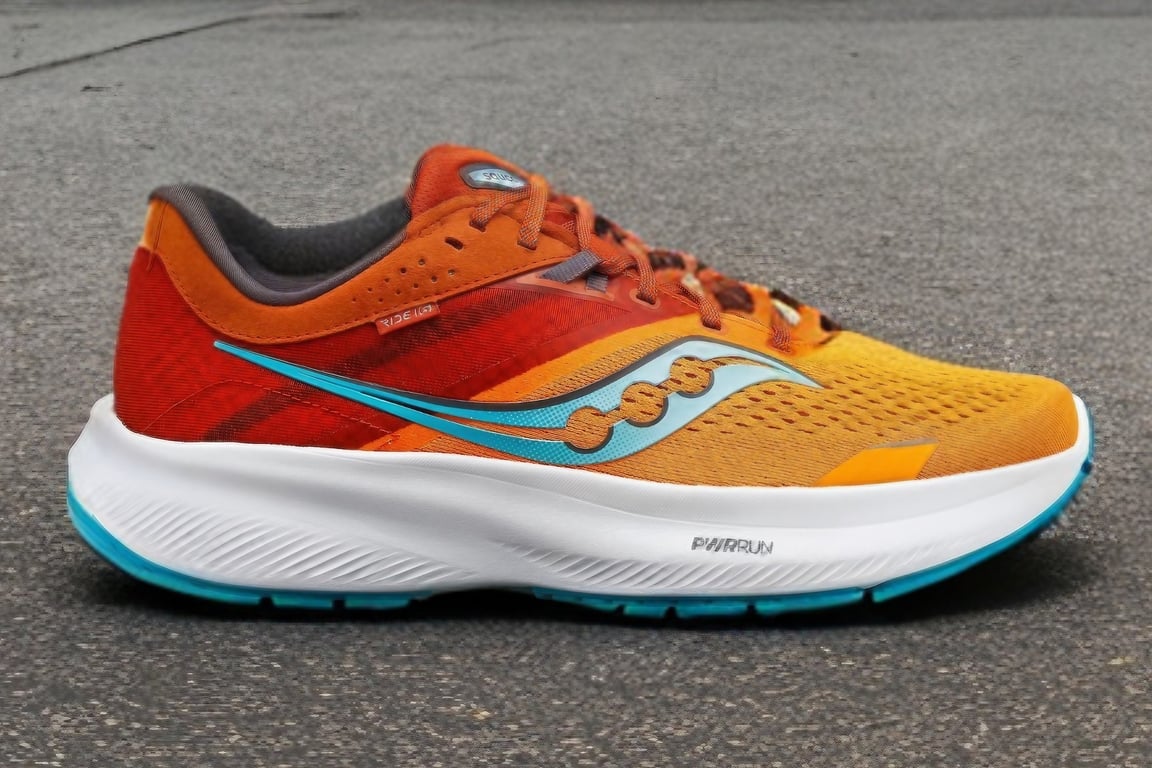 If you're new to running or looking for a reliable kick to get started, the Saucony Ride 16 could be your ideal running buddy. Saucony hasn't changed much from the beloved previous version.
Imagine slipping your feet into a shoe that's like a snug, cozy glove. That's the kind of fit you get with the Ride 16. Its engineered mesh upper cradles your feet comfortably, ensuring your toes can breathe and move.
The midsole features the PowerRun foam, which perfectly balances cushioning and responsiveness. For new runners, this is precious. It's not too squishy, and it's not too firm, either. It propels you forward while also protecting your feet, mile after mile.
The Ride 16's outsole isn't a technological marvel. The blown rubber in the forefoot and heel provides a decent grip. Although, the exposed part of the PowerRun foam may show signs of wear sooner than with other shoes.
Regarding price, the Ride 16 falls into the sweet spot. It's a budget-friendly option that doesn't skimp on quality. Considering this shoe's versatility, comfort, and performance, it's a wise investment for beginners.
Key Specs
👠 Stack/Drop: 35/8mm
🪶 Weight: 8.8oz/250g
Pricing for Ride
Best Asics—Nimbus 25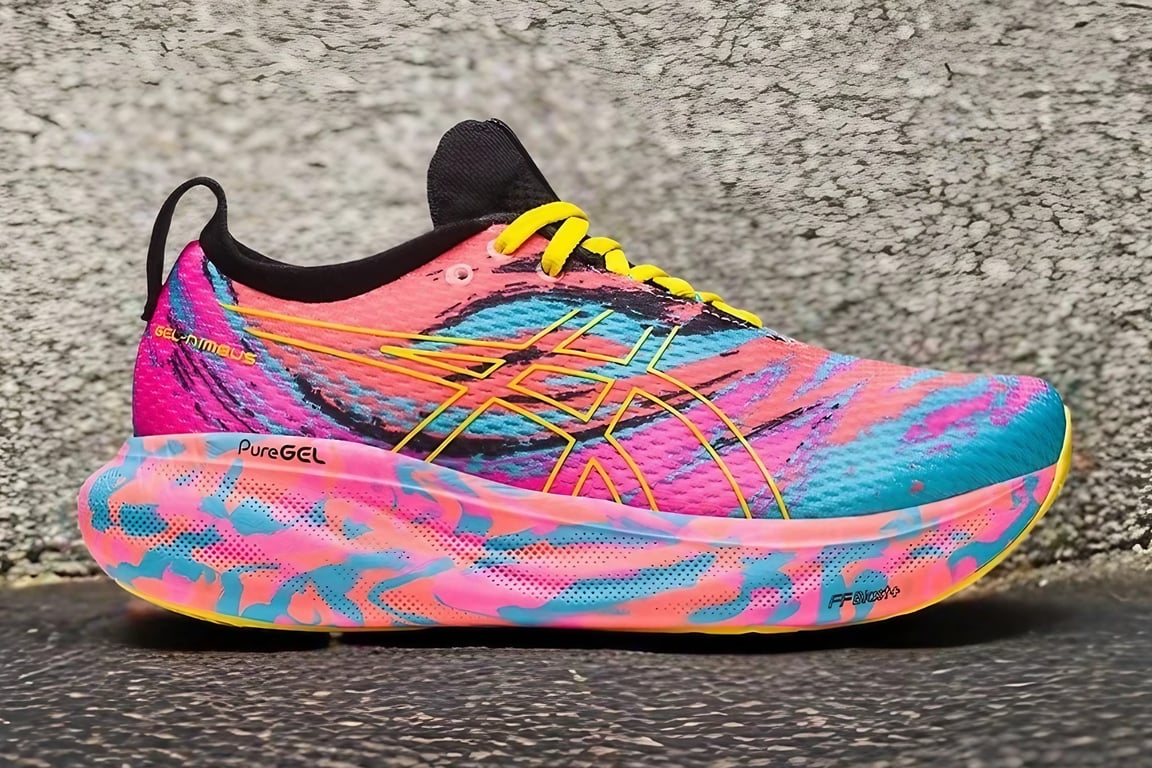 The comfort level of Nimbus 25 is off the charts. It is a top pick for new runners and also fantastic casual and travel footwear. Easy runs, recovery days, or just strolling around town – it's got your back.
The FF Blast Plus Eco foam in the midsole is where the magic happens. The materials overall are plush, and the fit is cozy, making those long runs a breeze. The "Eco" in the title means it's the environmentally friendly version.
The outsole is grippy and withstands wear. The upper is comfy, well-padded, and durable. It provides a cozy hug for your feet. The shoe is all about comfort and durability. It's perfect for beginners but PBs.
The Nimbus 25 was made with new runners in mind. Despite the comfort and durability, the shoe is relatively expensive. If budget is a cornerstone factor, look closely at other shoes on our list.
Key Specs
👠 Stack/Drop: 42/8mm
🪶 Weight: 10.2oz/290g
Pricing for Nimbus
Best Hoka—Clifton 9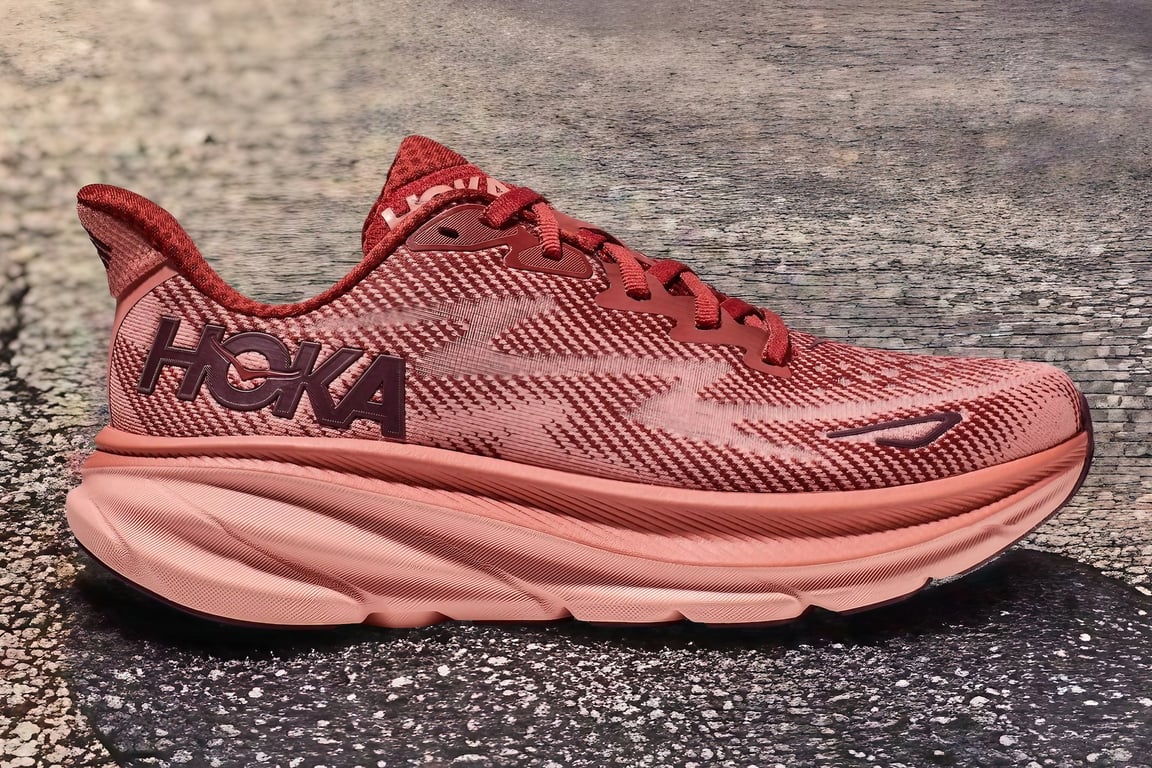 While Clifton 9 might resemble its predecessor, the Clifton 8, it is an entirely different footwear.
We're dealing with a brand-new midsole foam; it's lighter and bouncier. Also, Hoka increased the stack height while managing to decrease weight. The outsole was improved too, ensuring better grip and durability.
The midsole delivers an extra spring in every step. It feels lighter and springier. While it's still a go-to daily trainer for beginners, it's acquired an ability to pick up the pace. So, now the Clifton 9 is suitable not only for recovery days and easy runs but for speed workouts too.
The upper of an engineering mesh is both airy and light. It looks similar to the previous model, but there are subtle changes. The tongue became gusseted on the medial side and lost a bit of its plushness.
From the price perspective, the Clifton 9 is an excellent choice for beginners. Moreover, many runners that tried the Clifton once stuck to that model for a long-long time.
Key Specs
👠 Stack/Drop: 32/5mm
🪶 Weight: 8.9oz/251g
Pricing for Clifton
Best Saucony—Triumph 21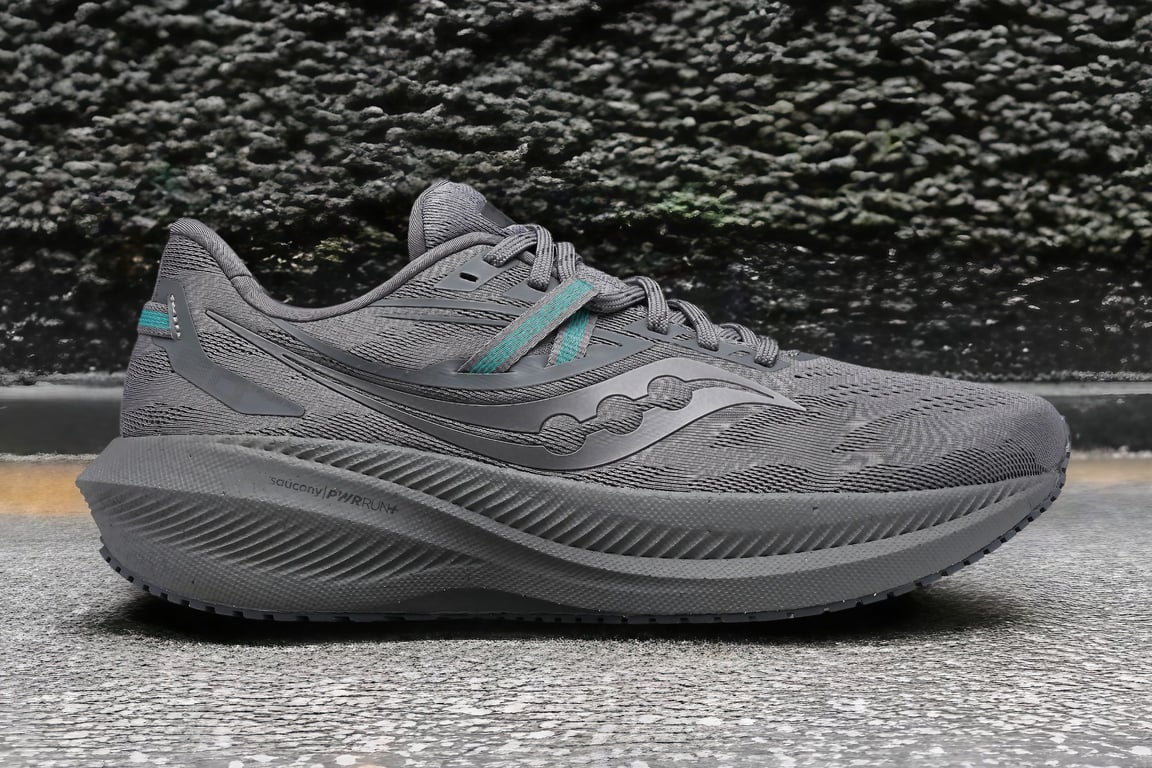 If you're a beginner looking for the perfect shoe to kickstart your running journey, Saucony Triumph 21 is the shoe you should try on. Whether planning a light jog or gradually increasing your distance, the Triumph 21 is versatile enough to keep up with your progress.
The knit upper is breathable and flexible, allowing your feet to move naturally. Some might find it roomy in the toe box, so keep that in mind if you're more of a narrow-footed individual.
The Triumph 21 utilizes a soft Power Run Plus foam in the midsole. It balances cushioning and responsiveness, ideal for base and longer steady runs – a beginner's sweet spot. Plus, you get a little energy return, helping you along those first few miles.
The 10mm drop can take some time to get used to, especially if you're new to running. However, it empowers running mechanics and helps to transition from heel to toe.
The Triumph 21 comes at a reasonable price point for what it offers. As for durability, the shoe overall holds up well against wear and tear. It's a reliable beginner's companion as they build up stamina and speed.
Key Specs
👠 Stack/Drop: 37/10mm
🪶 Weight: 9.7oz/275g
Pricing for Triumph
Best Brooks—Ghost 15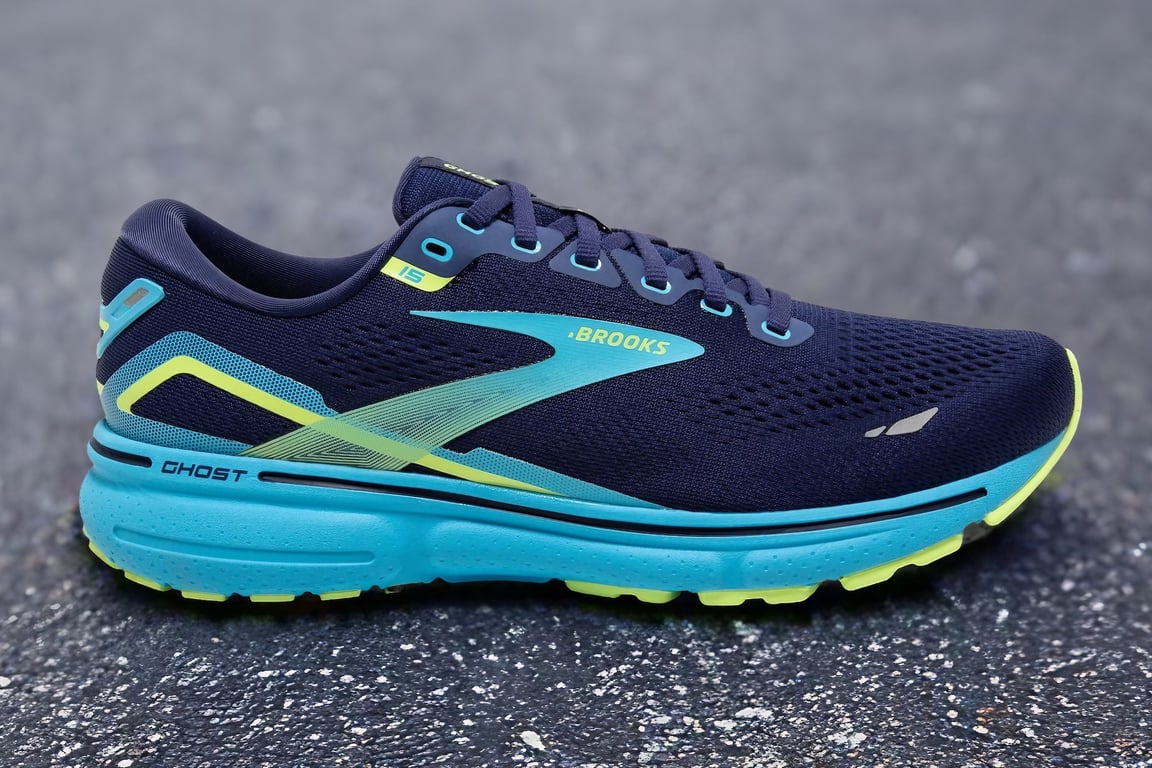 The Brooks Ghost 15 running shoe is a top pick for all beginners looking to hit the pavement. Brooks doesn't cut corners with durability. You're getting a well-crafted shoe built to withstand 600+ miles. The quality is evident from the get-go.
Brooks has kept the upper simple yet effective. You get considerable padding around the heel, which reliably locks down the foot. The toe box is flexible, almost velvety, and comfy. Around 62% of the upper is made from recycled materials, so you help the planet when logging miles.
The Ghost 15 is equipped with the updated DNA Loft 2 foam, which has that just-right bounce and responsiveness balance. It's firmer than the previous version and some other daily trainers.
The 12mm drop might raise an eyebrow for some, but the transition from heel to toe is smooth, making it perfect for steady-paced runs. The Ghost won't help you break PRs, but it's a hard-wearing, daily workhorse that's got your back mile after mile for a very long while.
The outsole grips greatly. Whether slogging through mud or navigating wet leaves, it won't let you down with its shaped and grooved sections. The best part? It's thick and built to last.
The Ghost 15 might cost a bit more than some other brands, but you're getting bang for your buck here. With its solid construction, responsive midsole, and grip-happy outsole, this shoe can handle the demands of a beginner's journey and then some.
The Brooks Ghost 15 is well-crafted and tailor-made for beginners looking to get started on the right foot. Whether tackling your first 5K or hitting the road for some occasional miles, this shoe's got you covered.
Key Specs
👠 Stack/Drop: 35/12mm
🪶 Weight: 10.0oz/285g
Pricing for Ghost
Best Adidas—Ultraboost 23/Light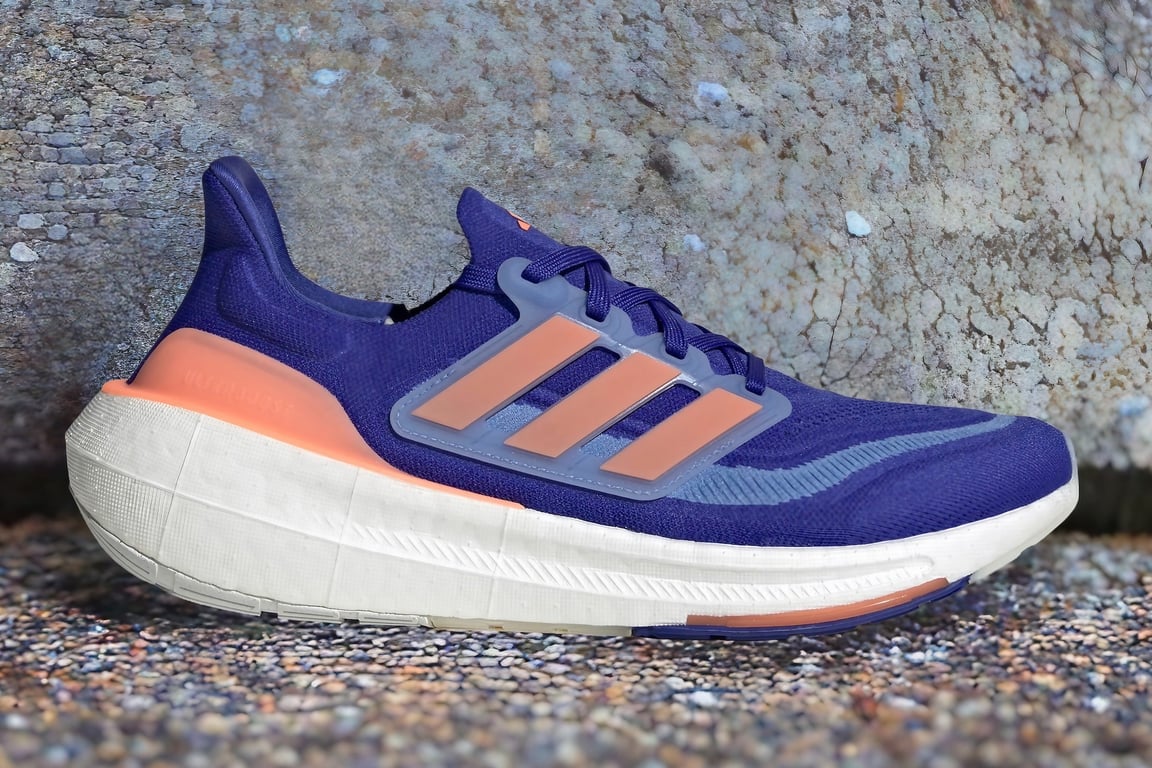 If you're starting your running journey and looking for a dependable daily trainer, the Adidas Ultra Boost Light could be a decent choice. The shoe is all about finding that sweet spot of comfort and performance.
The Primeknit upper is snug yet breathable, ensuring your feet stay cool and comfortable while training. The interior padding of the heel counter provides a cozy hug for your feet.
The midsole Light Boost foam is about 30% lighter than the previous model. It delivers a comfortable and cushioned ride while being lightweight. It strikes a balance between comfort and responsiveness.
The shoe's built to withstand over 600 miles. The durability-focused construction and Continental rubber outsole can handle various terrains.
While it might not be the snappiest performer, it offers a comfortable ride ideal for beginners. It's not about chasing records but building a foundation and enjoying the process.
On the downside, the shoe is expensive. While the shoe has its merits, weighing your budget against its features and other shoes on our list is essential.
Key Specs
👠 Stack/Drop: 30/10mm
🪶 Weight: 10.6oz/300g
Pricing for Ultraboost
Best New Balance—1080 v12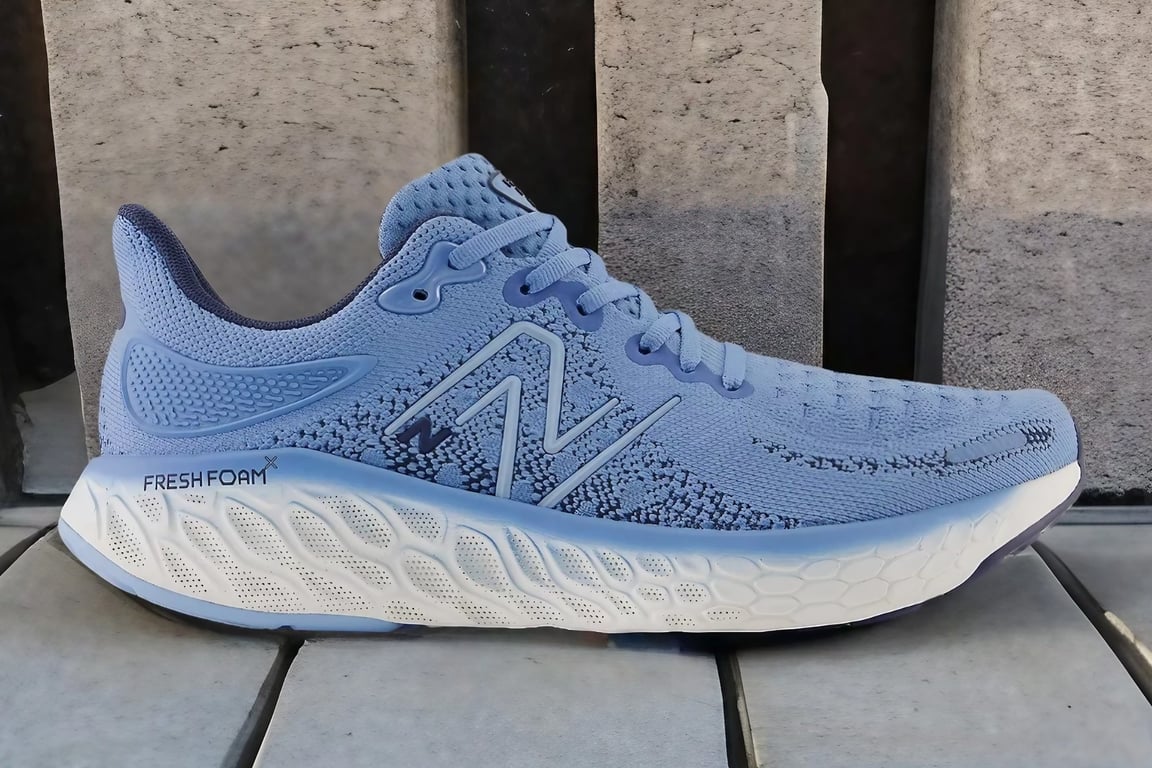 The 1080 v12 is the top-tier running shoe for beginners by New Balance and the ultimate blend of performance and versatility. It's perfect for runners who want a little more cushion than the average daily trainer but not the full-fledged plush of a max cushion shoe.
The Hypoknit upper is like slipping into a cozy, stretchy, and premium cloud. The collar has some padding for comfort, but not much.
The Fresh Foam X in the midsole offers a sprightly bounce while absorbing road impact and protecting your joints.
The blown rubber and some exposed midsole foam ensure excellent outsole grip. To slice some weight, New Balance decided not to rubberize the areas where rubber wasn't essential.
It's a bit on the heavy side, but you don't notice the excessive weight while training. It's tailor-made for easy long runs, recovery days, and base training — everything beginners need.
The shoe allows short acceleration but thrives in the ease pace zone. It's the ultimate companion to enjoy long miles on cruise control without sacrificing comfort.
The New Balance recommends going half-size down with the 1080. Although, if you are a wide-feet runner or prefer more room in a toe-box, your regular size might be well too.
Key Specs
👠 Stack/Drop: 37/8mm
🪶 Weight: 11.1oz/315g
Pricing for 1080
Best Nike—Pegasus 40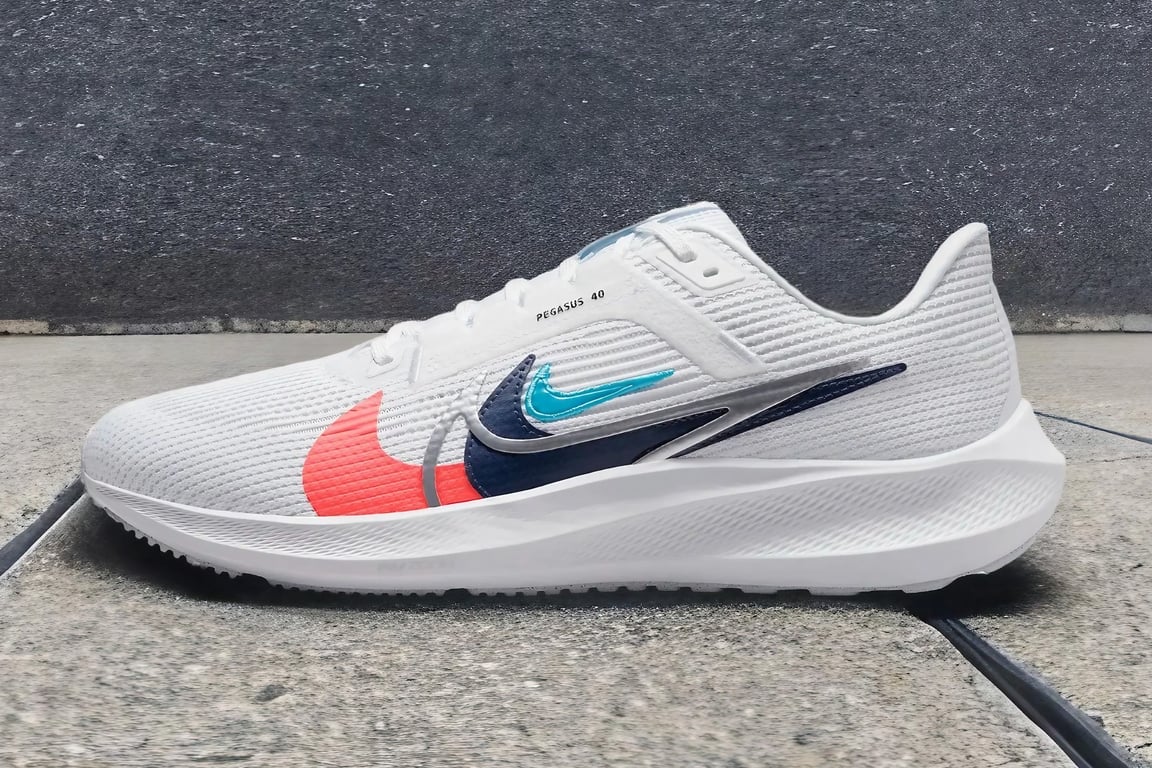 The Nike Pegasus series has been a staple for years, and this latest iteration, the Pegasus 40, has features that make it an exceptional choice for beginners building their base.
The midsole is crafted with a React foam incorporating two Zoom Air units. The combination creates harmony, offering a plush yet responsive feel underfoot. However, those air units cause discomfort to some runners, so it's recommended to break the shoe in gradually.
The upper is roomier, more comfortable, and more breathable than the previous version. The features are vital for beginners as they help prevent blisters and discomfort, ensuring a more enjoyable running experience.
The Pegasus 40 is an excellent versatile daily trainer for beginners, suitable for various types of runs – easy jogs, longer distances, and even some strides or faster paces. This adaptability makes the Pegasus 40 a true workhorse, covering the full cycle of a beginner's training routine.
Cost-wise, the Pegasus 40 comes in at a standard price point for quality running shoes. Considering its features, the shoe is a solid investment in your running journey, ensuring comfort, support, and performance without breaking the bank.
Key Specs
👠 Stack/Drop: 33/10mm
🪶 Weight: 9.7oz/275g
Pricing for Pegasus 40
How We Pick The Running Shoes For Beginners
First, we shortlist the most available brands and models in online stores and retail.
Then we test the selected models to find the right balance between the features to look for in running shoes for beginners (see the next chapter for details):
Shock Absorption
Comfort
Price
Durability
Lastly, we monitor actual customer reviews and feedback. On this premise, we upvote the shoe on the list or remove one from it.
Top Features to Look for in Running Shoes for Beginners
When selecting the best running shoes for beginners, several critical features require careful consideration. These features directly impact comfort, performance, and injury prevention.
#1 Shock Absorption
The shoe's midsole is pivotal in cushioning, reducing the impact forces transmitted to the feet and lower limbs during each stride. Beginners often require more cushioning to help their body to adapt and protect against injuries.
#2 Comfort
Well-padded and seamless interiors ensure a chafe-free and smooth running experience. Additionally, breathability in the upper contributes to comfort and reduces the risk of blisters and discomfort.
#3 Durability
Running shoes endure considerable wear and tear, particularly for beginners who may take time to refine their running form. Durable materials, reinforced overlays, and robust outsoles ensure footwear longevity.
#4 Price
Beware of low-price athletic footwear, as it can reflect the respective quality. However, beginners also won't get the full potential out of overpriced models. So, stay somewhere in between.
#5 Arch Support and Pronation
The variation in foot arches and pronation patterns is critical when choosing running shoes for beginners. Flat feet (low arches) and high arches demand different support mechanisms to maintain optimal foot alignment. The same is related to pronation (the natural inward rolling motion of the foot during running).
F.A.Q. about running shoes for beginners
Do running shoes matter for beginners?
Yes, running shoes matter significantly for beginners. Choosing the appropriate running shoes is crucial for injury prevention, comfort, and progress.
Are soft or hard shoes better for running?
Choosing between soft and hard shoes depends on your preferences and training objectives. Soft (maximalist) shoes are ideal for recovery and easy pace long-distance runs to benefit from extra shock absorption and comfort. On the other hand, hard (minimalistic) shoes with firmer midsoles offer more responsiveness and are preferred for faster-paced workouts or short-distance racing.
What shoes make running easier?
A new pair of lightweight daily running shoes with adequate cushioning and support make running easier, particularly for beginners. The shoe should act like a natural extension of your feet, making the running experience more enjoyable and comfortable.
Wisdom Running editors independently select and review everything we recommend. As an Amazon Associate, we earn from qualifying purchases. When you buy through our links, we may earn a commission at no extra cost to you.