In the lineup of every successful company, there is always an entry-level product that doesn't feature fancy bells and whistles but is high-quality, reliable, and excessively covers the customer's basic needs. Garmin Forerunner 55 is the old Honda Accord or Toyota Corolla of the running watch market. It doesn't cost a fortune, serves for years, and never lets you down.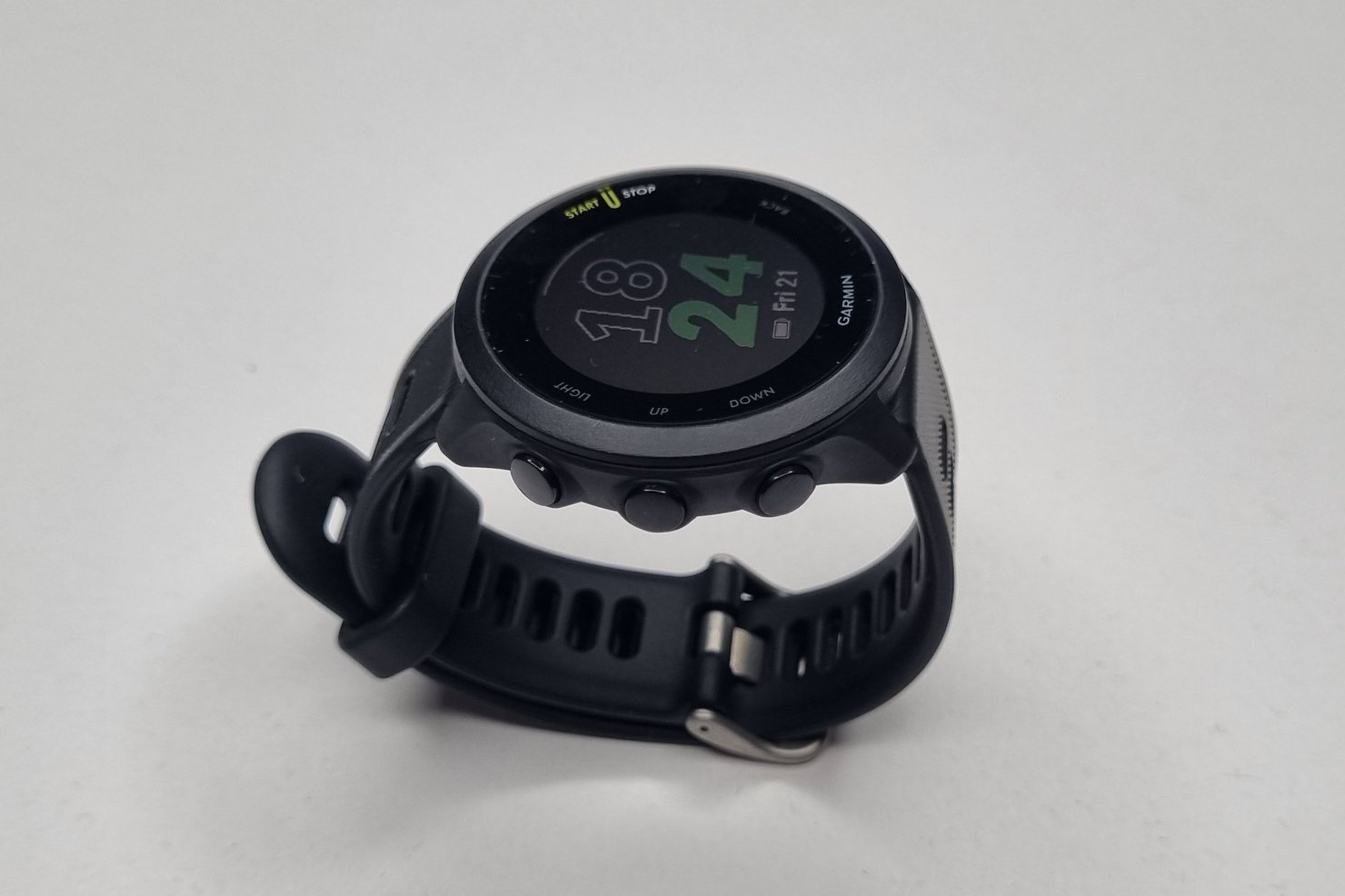 ⚖️ VERDICT
The Garmin Forerunner 55 is a high-end fitness tracker that offers a wide range of features and benefits for a fraction of the price. The device is a basic smartwatch in the Garmin lineup and confidently covers the needs of unspoiled beginners and professional runners.
Best Deals for Garmin FR 55
Comparison with Other Models from Garmin
The two reasonable alternatives to the Forerunner 55 in Garmin's lineup are FR 45 and FR 255. All models provide the following:
5 ATM water resistance
Lightweight (1.2-1.7oz/32-49g)
GPS/GLONASS/GALILEO units
Optical wrist HRM (every second)
Connectivity with apps and external sensors
The features they differ in are the following:
Garmin Forerunner 55 vs. 45/45S
The Forerunner 45 and 45S are the predecessors to the Forerunner 55 and offer similar features, such as GPS tracking, heart rate monitoring, and workout modes. However, on top of that, the Forerunner 55 provides:
x2 longer battery life
x2 internal memory
These two differentiation points are worth paying $20 extra.
The Forerunner 55 also features advanced running programs that an average user won't ever use, like PacePro, race predictor, daily suggested workouts, recovery advisor, estimated finish time, and training calendar.
Lastly, the strap of FR55 is more flexible in the place where it connects to the watch's body. As a result, the watch fits more comfier and covers the wrist more naturally.
Garmin Forerunner 55 vs. 245/245 Music
The two advantages the Forerunner 55 has over the FR 245 are:
x2 longer battery life in a watch mode
$80 lower price tag
So, if you are looking for a watch for road running only and music without a phone isn't critical, take FR 55 for a lower cost and enjoy the longer battery life.
On the other hand, the Forerunner 245 offers more advanced features, such as:
Multisport, Navigation, and Barometer (to track triathlon, trail, skiing, snowboarding, hiking, and rowing)
Music playback (Music version only, for $50 extra)
So, the Forerunner 245 is the ultimate choice if you are doing triathlons or need to listen to music without a phone.
Best Deals for Garmin FR 245
Comparison with the Models from Polar and Coros
Garmin FR 55 vs. Polar Pacer
The Polar Pacer has a slightly bigger screen but twice lower battery life in watch mode and a $10 higher price. So, the Garmin Forerunner is a more reasonable choice between these two devices.
Garmin FR 55 vs. Coros Pace 2
The Coros Pace 2 outperforms the Forerunner 55 in many crucial aspects: features, screen size, battery life, and workout modes. These advantages are worth paying $19 extra. Moreover, if you own a proprietary Coros charger, the price will be the same as for FR 55.
Best Deals for Coros Pace 2
On-hands Garmin Forerunner 55 Review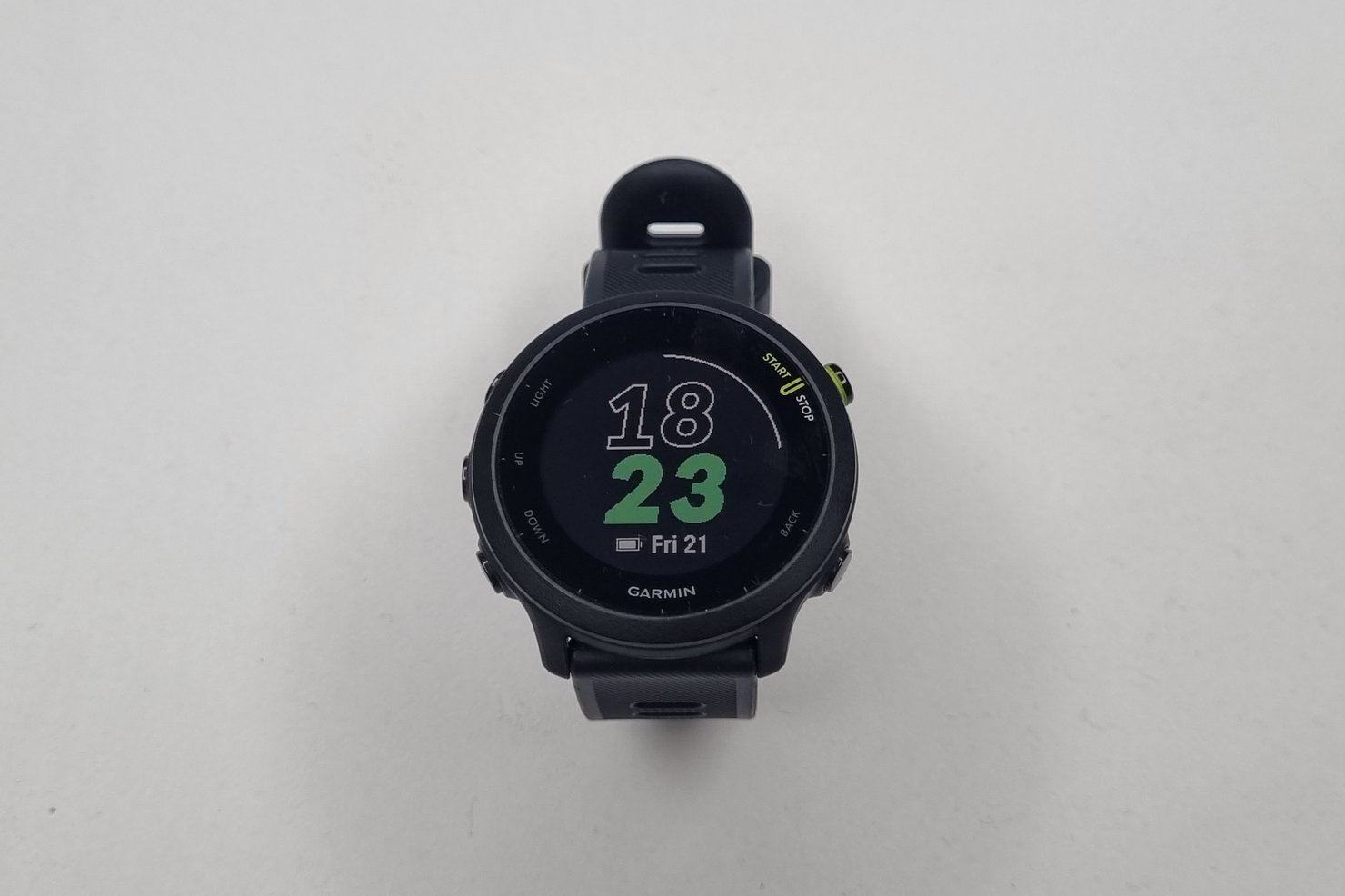 The Screen is Humble yet Informative and Bright
The Garmin Forerunner 55 has a small 1.04-inch transflective memory-in-pixel (MIP) display, which provides surprisingly clear visibility, even in direct sunlight. The screen's resolution is 208 x 208 pixels, meaning you will notice pixels without extra effort. It can depict a 64-color palette, which is enough for comfortable use.
Battery Life is More than Sufficient
The significant benefit of a low-resolution MIP screen is its extended battery life. Up to two weeks as a smartwatch and 20 hours in workout+GPS mode is much more than other fitness trackers of the same price range can provide.
In real-life use, with five workouts per week, draining the battery takes about 10 days. Also, it takes less than 2 hours to charge the Forerunner 55 to 100%. The device comes with a proprietary charging cable.
The Watch is Unnoticeable on Your Wrist
The Garmin FR 55 is very lightweight and comfortable, even to sleep in. The default silicon strap was improved compared to the previous model. It is more flexible and adapts better to cover your wrist more naturally. You can adjust the strap comfortably using a lot of holes that are close to each other. Ultimately, you don't feel the watch on your hand and completely forget about it.
Water Resistance and Swimming Features
The device is water-resistant, up to 50 meters/5ATM, so you can take a shower and swim without taking it off. However, the FR 55 can track only pool swimming; for outdoors, it's missing P2P navigation. The vendor recommends using a special HRM belt for accurate pulse measurement while swimming.
The Watch is Built to Last
The Forerunner 55 is durable and withstands the rigors of daily use, even though it doesn't have extra protection as the premium models have. The display is protected by chemically strengthened glass, and the case features fiber-reinforced polymer.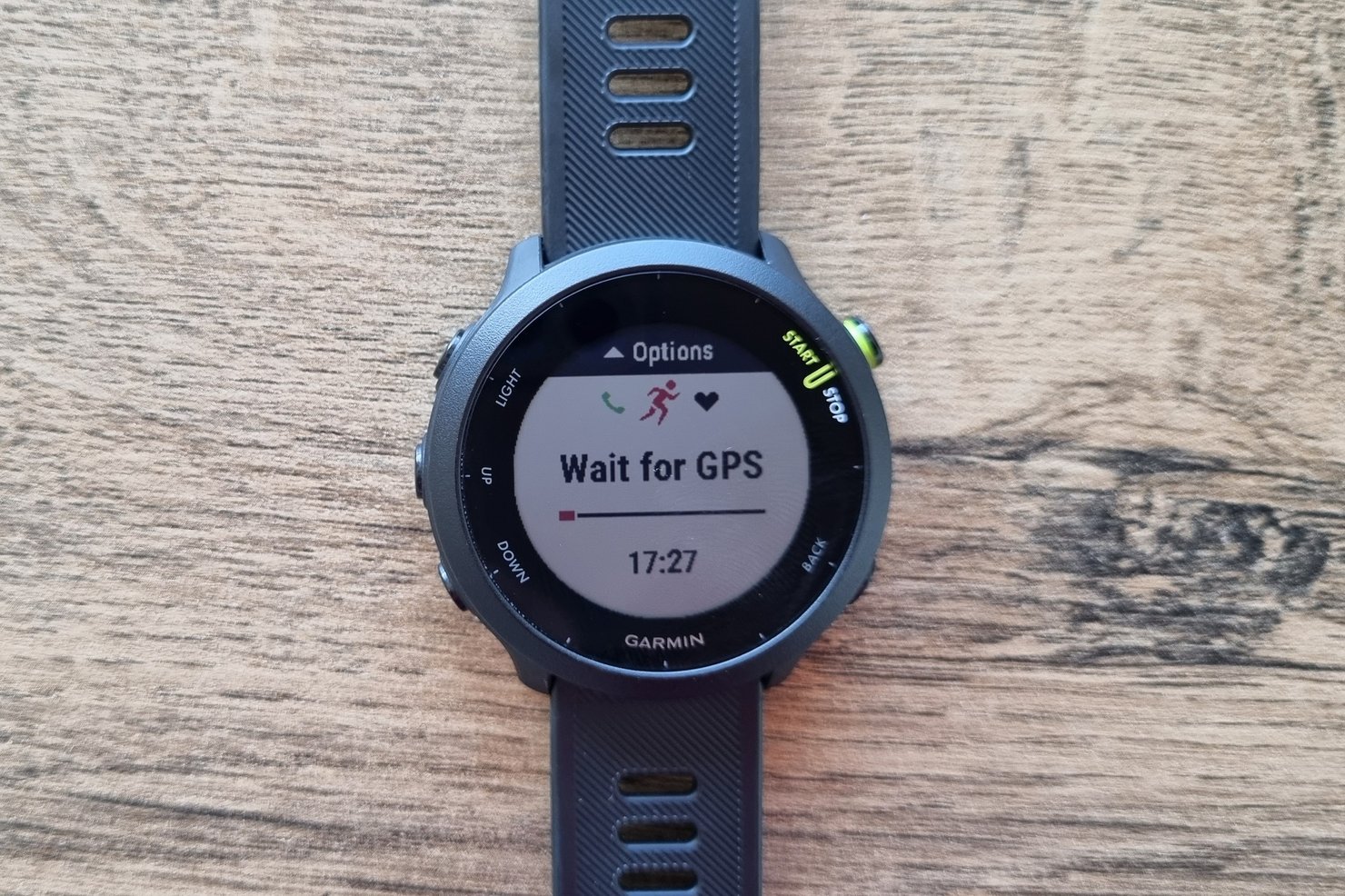 Run Tracking Features are High-end
The device is accurate with the essential running measurements, like distance, pace, and heart rate. The workout stats and analytics you get with FR 55 are exhaustive and equal to what the high-end running watches provide. The advanced workout analytics and graphs are available in the Garmin Connect app and website. You can set up an automated data transfer to Strava or Training Peaks, Runkeeper, and have all your activity data there.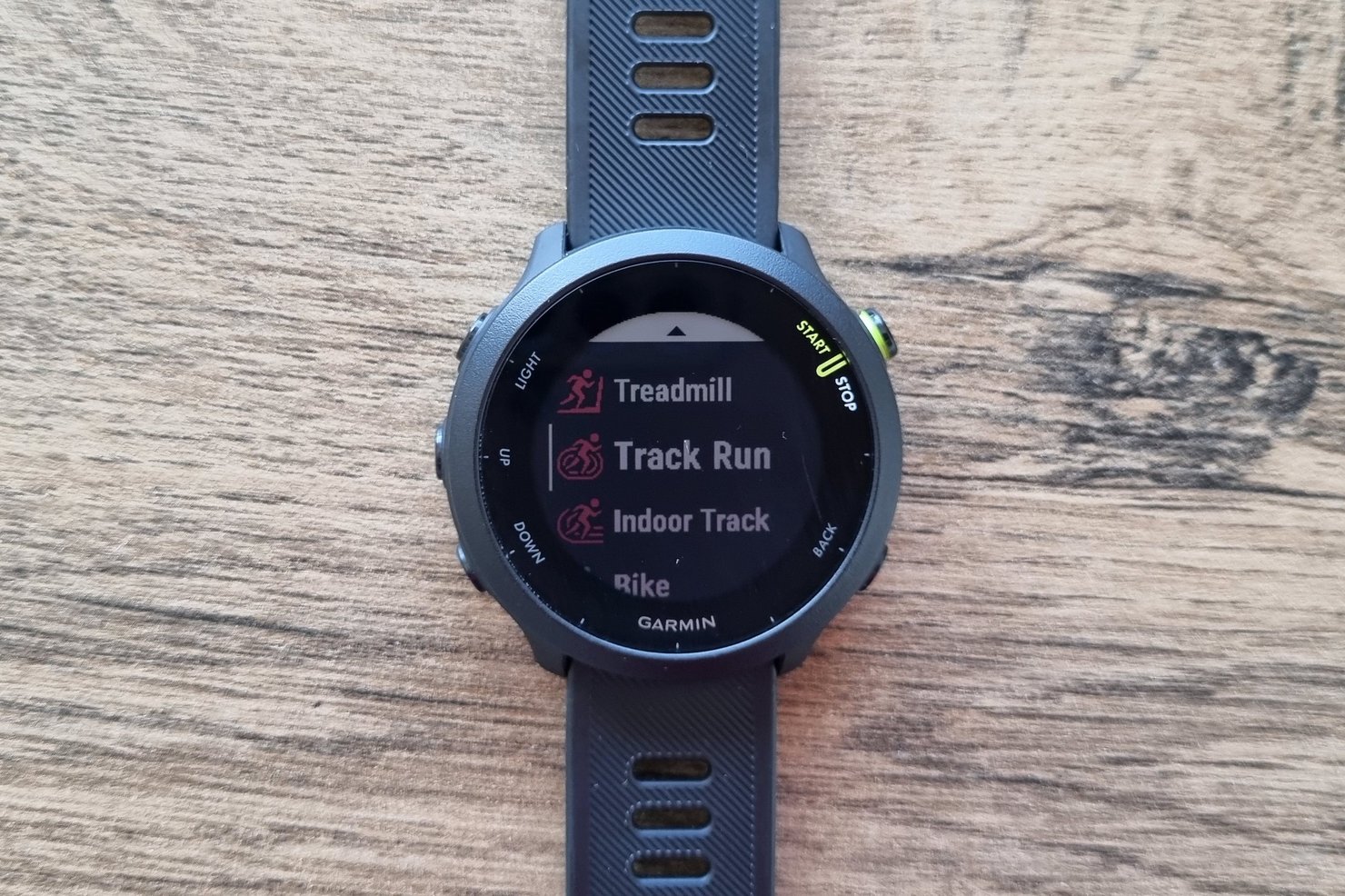 You can log laps or intervals by clicking the back button anytime. Also, you can create custom workouts and PacePro pacing strategies in the Garmin Connect app and have them transferred to your watch. So, the watch will advise you when to pick the pace up or down.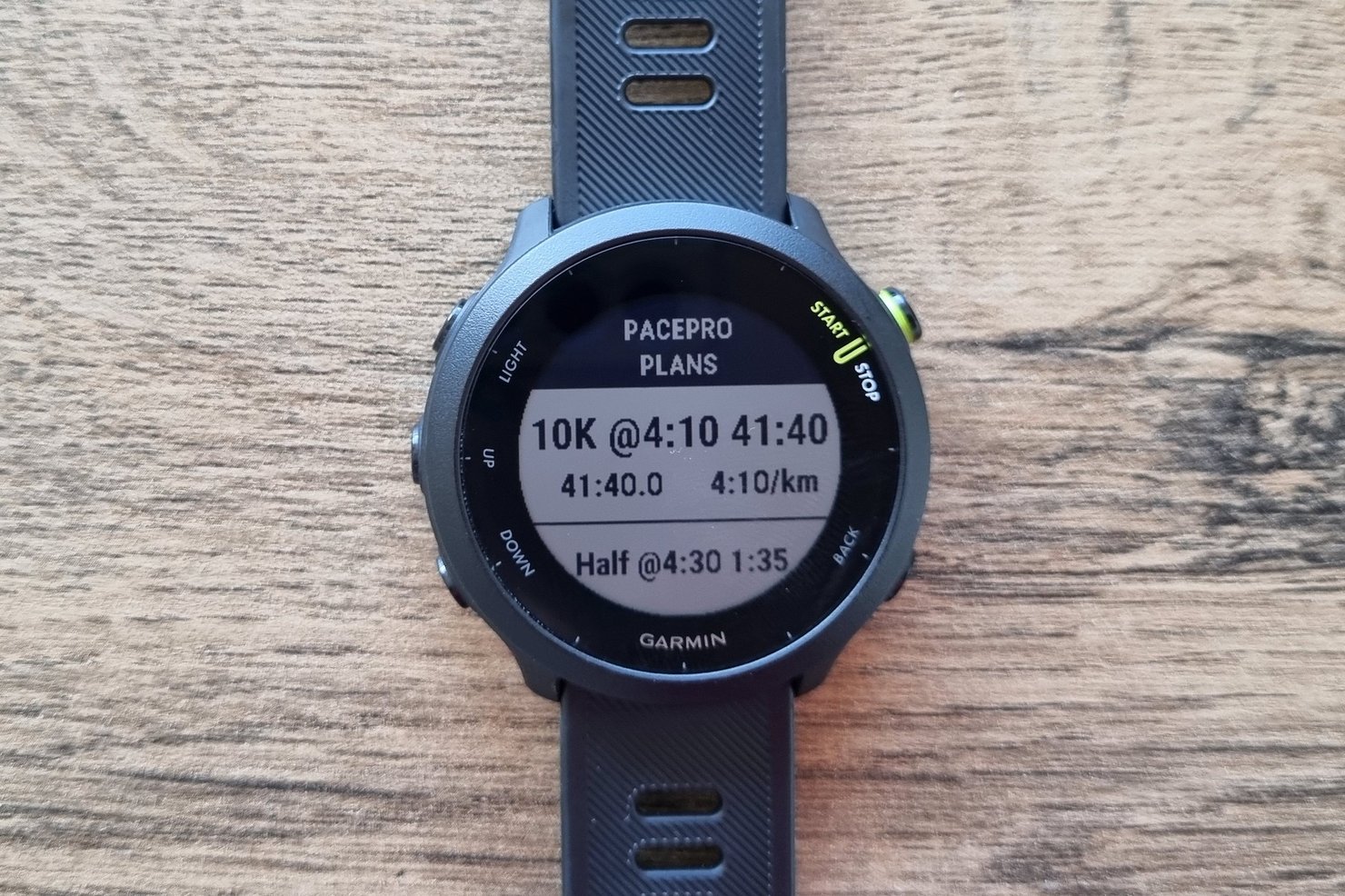 The running suggestions feature is precise when deciding whether to run or have a rest day. You can also create your training schedule in the mobile app and upload it to your watch.
Workout Modes are Exhausive for Runners+
In terms of run profiles, the watch can track outdoor, indoor, treadmill, track, and virtual running. The Forerunner 55 has preloaded workout modes to track cycling, pool swimming, walking, cardio, yoga, elliptical, HIIT, stair stepper, pilates, breathwork, and other activities. Also, you can track your heart rate zones and generic fitness data, like daily steps, distance, and calories burned.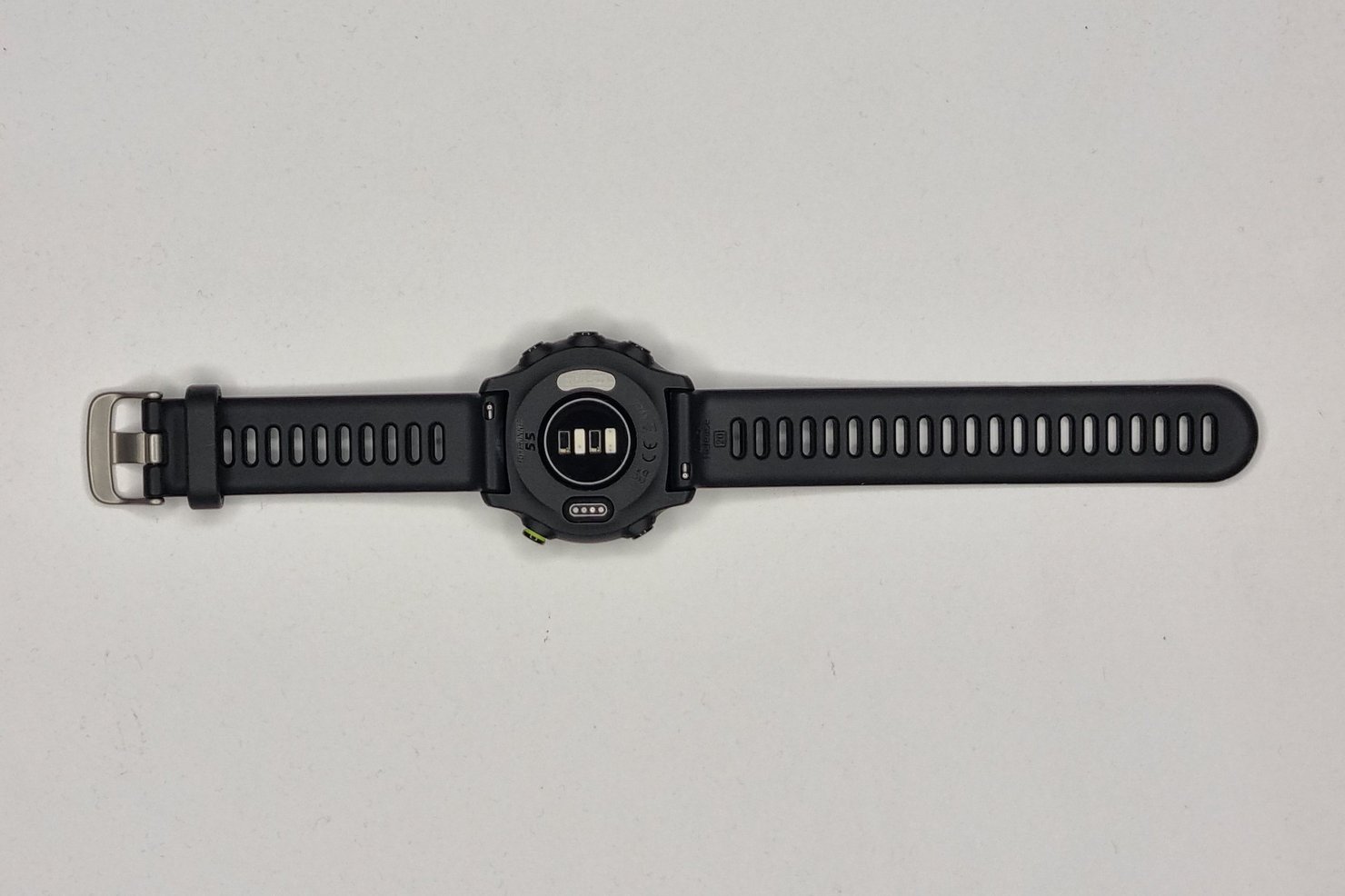 HR Monitor Accurately Measures Your Pulse Every Second
The integrated wrist-based Garmin Elevate heart rate sensor accurately measures the pulse in most cases. Although on highly intense workouts and swimming, the optical pulse measurement technology becomes less precise. So, for these types of training, the vendor recommends using an external HRM belt. The watch takes your heart rate literally every second and then calculates the health and fitness metrics based on its value and dynamics.
Sleep Quality Tracking is my Daily Routine Now
The device tracks sleep duration and quality and distinguishes 3 phases of sleep. The feature gives me valuable insights into my sleep patterns and how different factors affect sleep quality, like duration, noize, darkness, fresh air, training, food, alcohol, etc. Now the sleep data is the first thing I check in the morning.
Stress Tracking Reveals Well-Being Insights
The watch revealed insights into my current stress levels during the day and how different events and duties affect my well-being. For example, the watch spotted an unusually high-stress level while I was approaching the job interview and suggested me breathwork. Also, I discovered that driving a car through traffic jams causes me unnecessary stress that I felt before but couldn't attribute correctly. I switched to a faster commute via public transport.
The Body Battery Feature is Impressively Precise
The body battery data is based on your sleep quality, workout intensity, and stress level. Sleep at night and napping in the afternoon charge your body's battery, but sports and daily stress drain it.
This metric was accurate for me when comparing my actual energy level with the watch statistics. Although, it doesn't consider your eating habits and hydration, which also affect your well-being.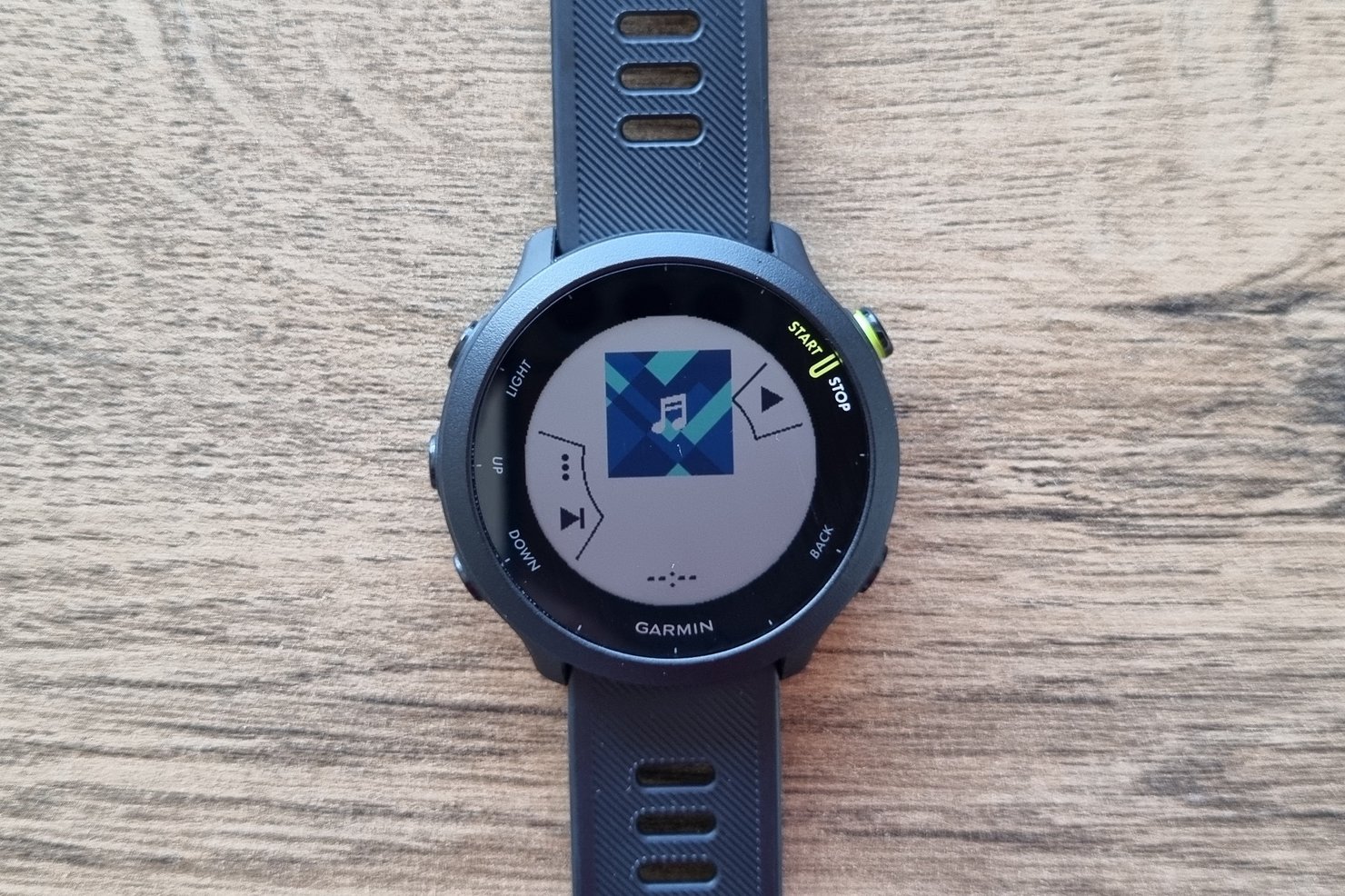 UX and Compatibility
The Garmin Forerunner 55 is compatible with iOS and Android devices. Users can connect the device to their smartphones using the Garmin Connect app, which allows viewing fitness data, setting goals, and tracking progress over time.
The Forerunner 55's interface is user-friendly, and users can easily navigate the various menus and features. The device has Garmin's traditional 5 physical buttons. The watch's screen is responsive and easy to read, even in bright sunlight. It isn't a touchscreen.
The Bottom Line
I absolutely recommend buying Garmin Forerunner 55. It is a high-end, lightweight running watch with an entry-level price tag. The device is a sweet spot regarding features, battery life, and cost. The watch ensures accurate measurements and will serve you for a long time. Although, I don't recommend buying a used device.
It's compatible with any smartphone and running app. The personalized health insights and recommendations reveal valuable information to keep you in shape and perform at your best when needed.
F.A.Q. about Garmin Forerunner 55
Can you use Garmin Forerunner 55 without a phone?
Yes, the Garmin Forerunner 55 is fully functional without a mobile phone around and can track your workouts, health, and fitness. It has built-in GPS tracking and can store up to 200 hours of activity data (10 charges) without syncing with your smartphone.
Is Garmin Forerunner 55 worth buying?
Yes, the Garmin Forerunner 55 is worth buying if your dominant sport is running. It offers an excellent balance of features, accuracy, battery life, durability, and price.
Is Garmin Forerunner 55 better than 45?
Yes, the Garmin Forerunner 55 is an improved version of the Forerunner 45. It provides a longer battery life, a better fit, and some advanced running features. It's $20 more expensive, but it is totally worth an upgrade.
Can you answer calls on Garmin Forerunner 55?
No, the Garmin Forerunner 55 cannot make or receive phone calls. However, it can display notifications from your phone and allow you to control music playback on your phone.
How old is Garmin Forerunner 55?
The Garmin Forerunner 55 was released in June 2021.
Wisdom Running editors independently select and review everything we recommend. As an Amazon Associate, we earn from qualifying purchases. When you buy through our links, we may earn a commission at no extra cost to you.